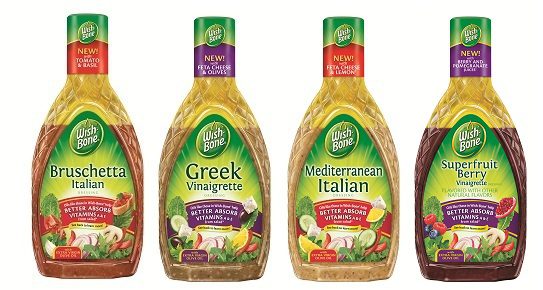 Product Name: Wish-Bone Salad Dressing: Greek Vinaigrette, Bruschetta Italian, Superfruit Berry Vinaigrette and Mediterranean Italian Dressings
Product Information: The new Wish-Bone Salad Dressings Greek Vinaigrette, Bruschetta Italian, Superfruit Berry Vinaigrette and Mediterranean Italian Dressings Give Greens, Veggies, Fruits and Even Meats a Taste-Boost for Delicious Eating!
It's a new year, and with it come resolutions to eat more veggie-rich meals. Now, thanks to Wish-Bone®, going greens just got a whole lot tastier!  Introducing four sophisticated new dressing flavors from Wish-Bone: Greek Vinaigrette, Bruschetta Italian, Superfruit Berry Vinaigrette and Mediterranean Italian.
"As the new year kicks into gear, the trend toward eating well-balanced meals bursting with fruits and vegetables is gaining a greater foothold among Americans," said Sandra Woodruff, MS, RD, LD/N, nationally known dietitian and best-selling author of many books on nutrition. "With flavorful dressings tossed into the mix, eating greens and vegetables becomes a pleasure, not a chore."
The four new Wish-Bone dressings are great on greens, but they also go beyond the salad bowl, as marinades for meats, vegetables and fruits:
Greek Vinaigrette, made with feta cheese and ripe black olives
Bruschetta Italian, inspired by the classic appetizer and made with sun-ripened tomatoes and sweet basil
Superfruit Berry Vinaigrette, with berry and pomegranate juices
Mediterranean Italian, made with feta cheese and a refreshing squeeze of lemon
Not only has Wish-Bone enhanced its dressing offerings, it has also changed the bottles they come in. The new bottle has up to 20 percent less plastic than the previous one, so there is less impact on the environment while delivering the same amount of delicious taste.
My thoughts: I love salad and could eat it with dinner every night.  As a matter of fact my husband laughs at me because whenever we eat out I always order a salad.  But when it comes to salad dressing I'm pretty boring.  I either like Ranch, Creamy Italian or Oil & Vinegar that I mix myself.  Which is probably why my favorite of the ones they sent me to try, for a salad was the Mediterranean.  Oh my I had salad all week long with this dressing.  It was so good!
Then I made a pasta salad and tossed in some cherry tomatoes, green and red peppers and used the Superfruit Berry Vinaigrette.  It was the perfect dressing for a pasta salad.  I can't wait until the summer when we entertain more to make this again.  I'm sure it will be a hit.  It gave the pasta salad just a little sweetness. YUMMY!
And finally I used the Bruschetta Italian as a marinade for my chicken.  I recently started weight watchers and I'm eating more chicken so I'm trying it different ways and I thought the Bruschetta Italian would be perfect on it and it was!  My husband, who isn't a Bruschetta kind of guy absolutely LOVED it and so did my 6 year old.  Next time I make it I'm going to make extra chicken to use in a salad too.
Below is one of the recipes we tried and absolutely loved.  The Mediterranean Dressing was my favorite one for salad and it was great with the roasted veggies and shrimp.  For more recipes visit Wish-Bone.com.
Mediterranean Roasted Vegetable & Shrimp Salad
4 servings
Prep Time: 20 minutes     Cook Time: 25 minutes
1/2 cup Wish-Bone Mediterranean Italian Vinaigrette Dressing, divided
2 large tomatoes, cut into wedges
1 cup thinly sliced fennel or celery
1 large zucchini, halved lengthwise and sliced
2 large shallots or 1 small onion, sliced into thin wedges
1 clove garlic, finely chopped
1 lb. cooked large shrimp
1 tbsp. lemon juice
8 cups arugula or baby spinach leaves
Preheat oven to 425°.
Toss 1/4 cup Wish-Bone Mediterranean Italian Vinaigrette Dressing with tomatoes, fennel, zucchini, shallots and garlic in 13 x 9-inch shallow roasting pan. Roast, stirring once, until vegetables are tender, about 25 minutes. Stir in shrimp and lemon juice. Roast until shrimp are heated through, about 5 minutes. Toss remaining 1/4 cup dressing in serving bowl with the arugula. Top with shrimp and vegetables. Garnish, if desired, with chopped fresh basil.
Nutrition Information per serving:
Calories 230, Calories From Fat 60, Saturated Fat 1g, Trans Fat 0g, Total Fat 7g, Cholesterol 220mg, Sodium 290mg, Total Carbohydrate 17g, Sugars 8g, Dietary Fiber 3g, Protein 27g, Vitamin A 50%, Vitamin C 70%, Calcium 15%, Iron 30%
If you are on Weight Watchers (which I am) this recipe is 6pts per serving.  Not bad at all!
Product Price: The new flavors come in a 16-ounce size, in addition to an 8-ounce size for Greek Vinaigrette, and will sell for a suggested retail price of $2.89.
Disclosure: I received a sampling of the new Wish-Bone Dressings for my review. This did not influence my post and as always, my words are my own.