I just completed my 27th week on Nutrisystem and I'm happy to report that I lost an additional 2.2 lbs for a total of 48.5 lbs lost! I've never enjoyed a program and losing weight as much as I do now.  I don't feel deprived or 'left out' of eating anything I enjoy because Nutrisystem gives me so many great choices.
Last week I shared with you my favorite breakfast items and next week I'll share with you my favorite lunch items but this week I want to tell you about some fun I had!  It's been getting pretty cold here in New England and I've been freezing.  I was in need of some long sleeve shirts.  I only had 2 long sleeve shirts in my closet, and they are getting big on me.  I don't normally buy sweaters or sweatshirts because I never found any I liked in my size.  Or I didn't like how they looked on me.  I would usually wear my short sleeve shirts and then hide under long sweaters.  I don't want to hide anymore.
So I headed to the mall and was going to check out what they had at Lane Bryant.  I've been shopping there for years!  They always have the newest and hottest styles in sizes that fit me.  As I pulled into the mall parking lot I was talking to my best friend.  I told her where I was going shopping and she asked me why was I going there?  Couldn't I shop anywhere now?  And I thought about it and she was right.  So instead I went to Old Navy –  their cloths are always more affordable than at Lane Bryant, but I've never been able to shop there for myself.
I walked through the store and just grabbed whatever I liked and took a huge pile to the dressing room.  And guess what?  They all fit!   I was having so much fun.  I snapped pictures of each thing I put on because I wanted to share them.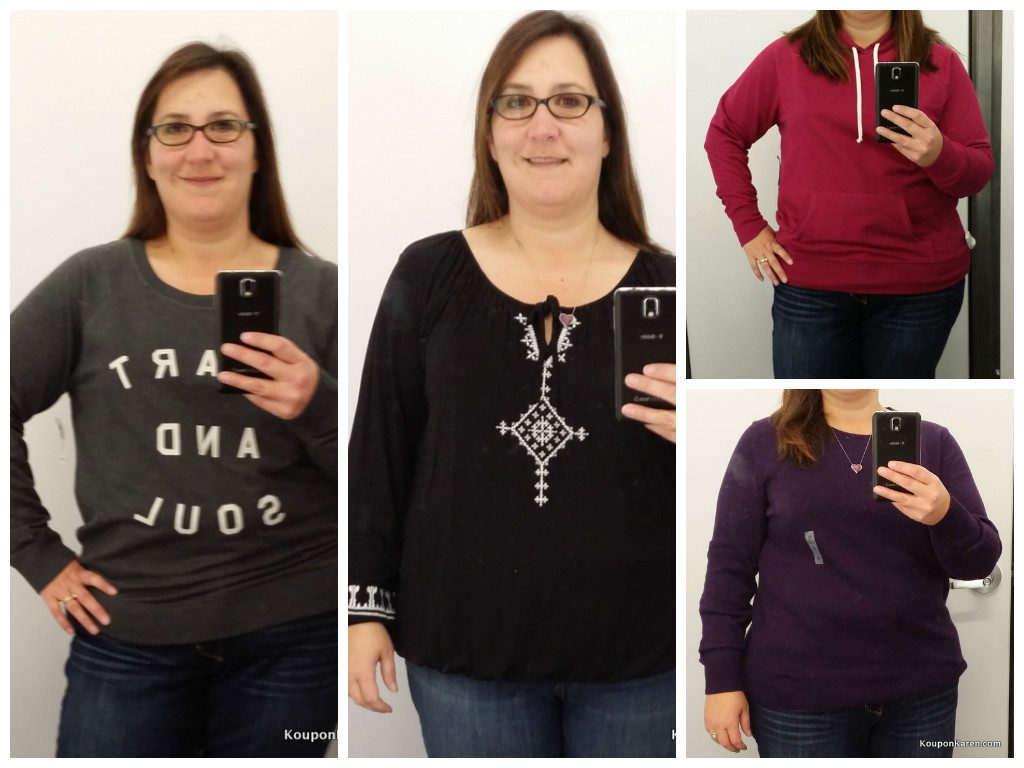 Needless to say, I've been very comfortable in these long sleeve tops.  My youngest daughter even commented on how I looked like what she calls a 'regular' person.  Guess mommy finally has some style?  I look forward to these new tops growing bigger on me and not fitting me by the end of the winter.  And I'll even snap some more pictures.  Seeing pictures of clothes that are too big on me really motivates me.
One of my first goal's wasn't so much a number on the scale, but I wanted to be able to walk into any store and buy clothes.  Well, I've reached that goal so now I need to make a new one.  I'm so excited to see what's next!
I still have a long way to go and I'm going to keep on going!
Week 1 – 8.8 lbs
Week 2 – 2.5 lbs
Week 3 – 1 lb
Week 4 – 2.7 lbs
Week 5 – .6 lbs
Week 6 – 1.9 lbs
Week 7 – 2.6 lbs
Week 8 – 1.2 lbs
Week 9 – 2.3 lbs
Week 10 – .9 lbs
Week 11 – 2.5 lbs
Week 12 – 1 lb
Week 13 – no weigh in
Week 14 – 1 lb
Week 15 – 1.5 lbs
Week 16 – 1 lb
Week 17 – 1.3 lbs
Week 18 – 3.2 lbs
Week 19 – 0
Week 20 – 1.1 lbs
Week 21 – .3 lbs
Week 22 – 3.1 lbs
Week 23 – .5 lbs
Week 24 – 1.8 lbs
Week 25 – 1.8 lbs
Week 26 – 1.7 lbs
Week 27 – 2.2 lbs

Total Weight Loss – 48.5 lbs
Are you working on any weight-loss or health goals? If so share them in the comments so we can all cheer you on!!
Disclaimer: I am funding my Nutrisystem program myself and sharing my experience with my readers.  If you are interested in trying Nutrisystem and want to save $30 off your first order, leave your email address in the comments and I'll send you a coupon to use!