This post is Sponsored by Peaches & Petals but my opinions are 100% my own!
I am so excited to share with you a new monthly beauty box I found this summer – Peaches & Petals.  What makes this different from other beauty boxes is these are FULL size products of new beauty items and fragrances.  But it's not just new products to use but also jewelry and accessories like scarfs, sunglasses, earrings, rings, necklaces and so much more.  The boxes are just $14.99 a month and they ship free.   Chances are one item in that box is worth close to $14.99 but you are getting so much more!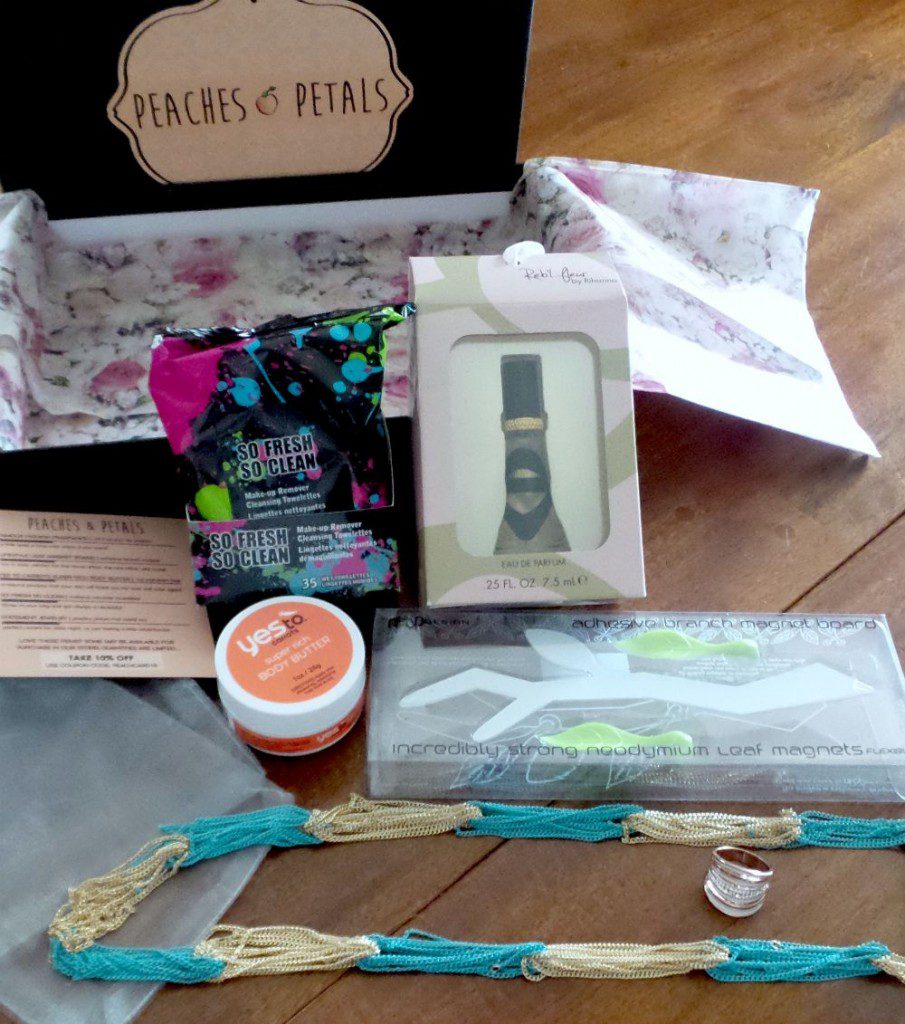 Peaches & Petals Beauty Box – Exclusive Deal Save 50%
Plus readers of my site can save 50% off your first month when you use coupon code PEACHKAREN at checkout.  Plus your order ships for FREE!!!  I received a box this summer and it was full of goodies that I want to share below.  This box was worth way more than $14.99 and it had some GREAT products in it that I will use and buy again!  Remember these are FULL size products, not samples.  Plus it had 2 pieces of jewelry.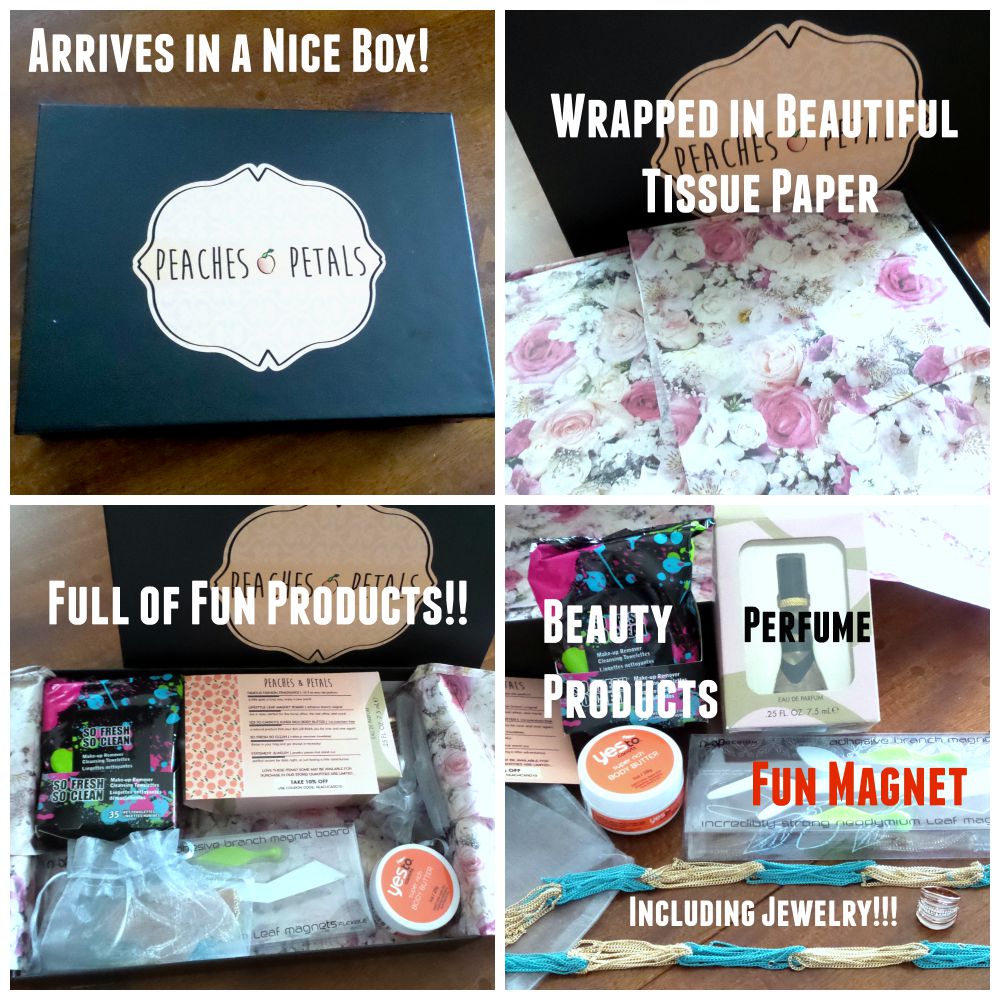 My box arrived and I immediately opened it with so much anticipation of what would be inside.  I love Surprises so this was right up my alley!  I loved the box everything was in.  It's a nice sturdy box that I can reuse for so many things!  I'm always thinking about up cycling!   Inside the box, the contents were wrapped in beautiful tissue paper.  This told me right away that they clearly put a lot of thought into the boxes to wrap them so nicely.  LOVE THAT!
Then the fun began.  It was like Christmas morning!!!  Here is what my box included:
Reb'l fleur by Rihanna (.25 fl oz) which smells AMAZING!!  I love a good perfume and especially one I can toss in my purse.  This is the perfect size for that!
Yes to Carrots super rich Body Butter (1 oz).  I love body butter and with the cold weather coming it's just what I need to keep my skin soft and smooth!!
So Fresh So Clean make up remover towelettes.  How did they know I use towelettes to remove my make up everyday??  I've never tried this brand so I was super excited for something new and useful!!!
Lifestyle Leaf Magnet Board – so cool and perfect for my office!
2 Pieces of Statement Jewelry – I super cool ring and a fun necklace from Hot Pink!!
Sign up for this month's beauty box!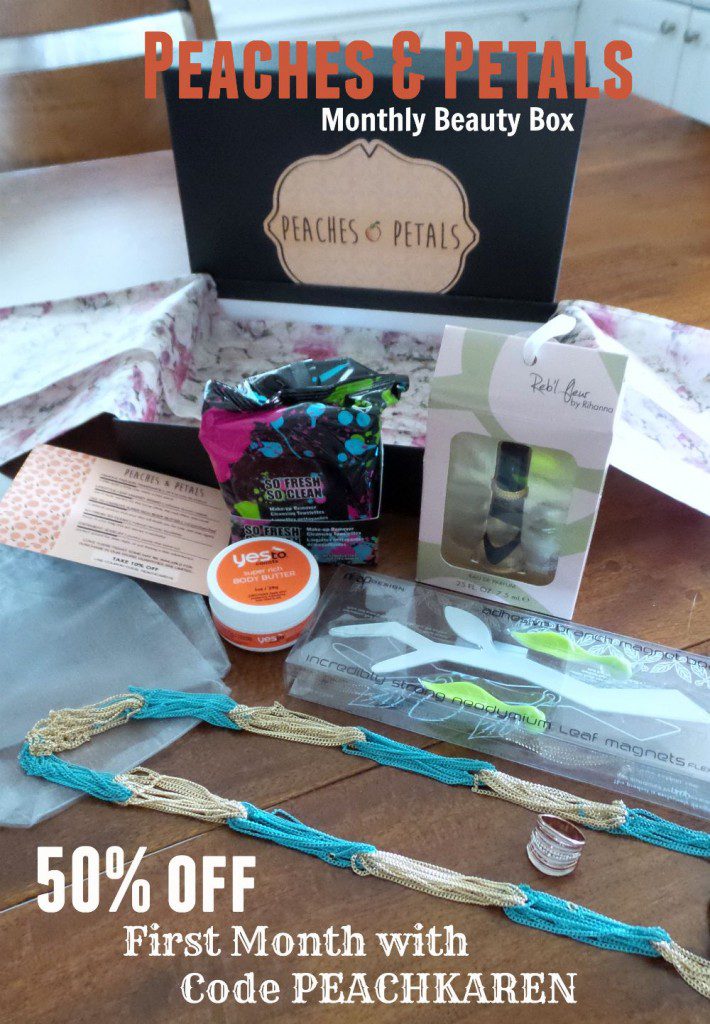 Make sure you use coupon code PEACHKAREN to save 50% off your first box making it only $7.50 and it ships FREE!!!
Would you sign up for a beauty box like this??