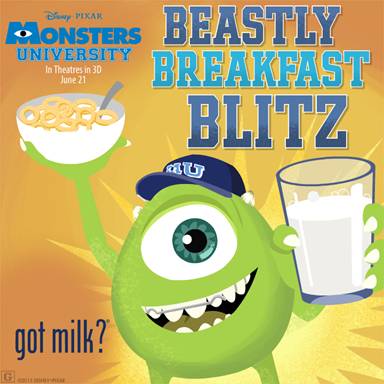 Play the Beastly Breakfast Blitz Game at Monsters University
Here is a fun game for you and the kids to play!  MONSTERS UNIVERSITY students are waiting on YOU to serve them healthy breakfasts with milk as fast as you can in the new game Beastly Breakfast Blitz.   Fill every monster order before time runs out to move through new levels, and experience an entire week of breakfast in the MU cafeteria. You'll need to be quick – these little monsters need to fuel up for scaring school with milk's high-quality protein at breakfast!
I suggest you go through the instructions first to see how it's played.  And then try not to sit there and play for an hour like I almost did!