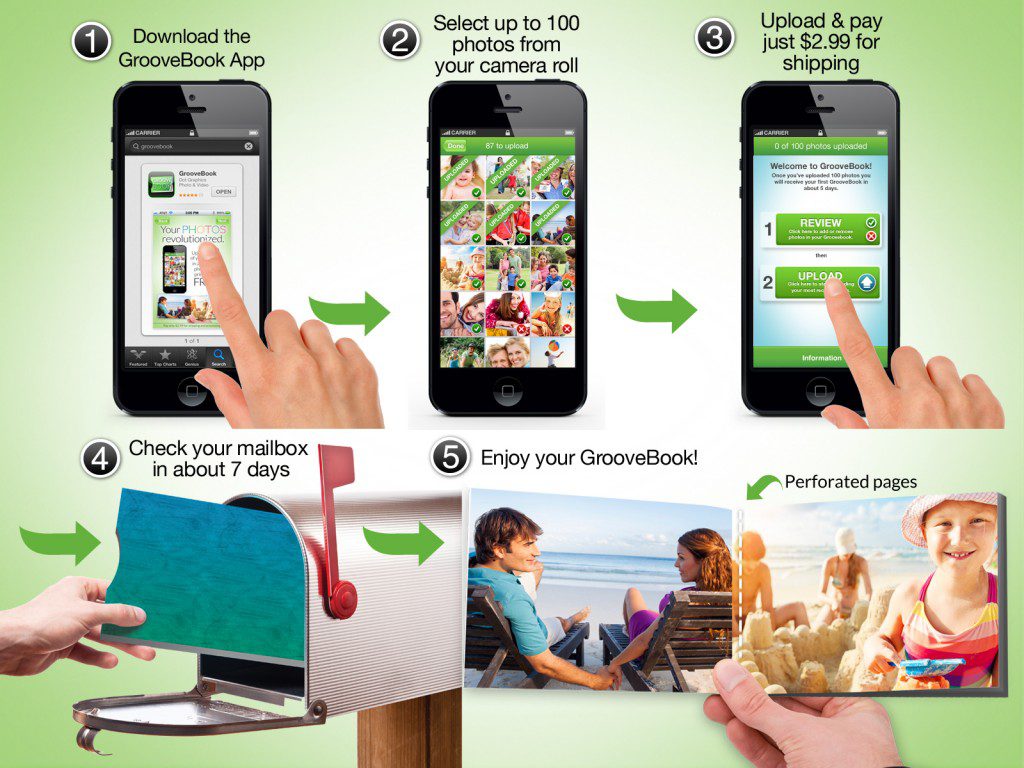 I'm so excited to share that you can get your first GrooveBook for FREE with 100 photos from your phone for FREE with this exclusive coupon code GROOVEKOUPON.
Check out GrooveBook on Shark Tank Friday, 1/11/14 at 9pm EST.  I love that show and I love this app!  I'm excited to see it featured.  But get your FREE Groovebook now with the exclusive code above!!!
We are all guilty of taking pictures with our phone and then not printing them out.  Does anyone print pictures anymore?  It's so easy to leave them there because we share them on social media and then move onto the next picture.  But in a few years we are all going to be thinking where are all the pictures?  The kids are going to want to see pictures of themselves and you won't have any 'hard copies' to show them?
Well Groovebook has made it super easy for you to print your pictures from your phone each month – and it's extremely affordable to do so!   Each month you can upload 100 pictures through the Groovebook App and then have them printed in a book for only $2.99.   That's only $.29 a print!    They will come in a keepsake book that has perforated edges so you can take them out if you want!   They are made with high quality photo paper and you can even  have additional books sent to family members for only $2.99.  This is great to set up for the grandparents so each month they will receive 100 pictures that you choose, of the grandkids in a little keepsake book.
Want to try it out for FREE for the first month?  Simple click here to download the FREE App and then when you sign up use coupon code GROOVEKOUPON and your first book will be FREE!  Each month after that you'll be charged $2.99 for each book but you can cancel at anytime.  So try it out and see what you think.  I just ordered my book and can't wait to get it.  For $2.99 each month 100 of my pictures will be mailed right to my house.
Why do they ask for my credit card number?
Because each month they will charge you $2.99  per book.  They need a credit card in order to do this.
What if I don't have 100 photos to print one month?
Add them to your phone from your computer.  Maybe you have some photos from past months that you've moved from your phone to your computer? If so move them back to your phone and send them to be printed.  Or send them to someone else for the month.  Seriously for $2.99 a month find old images on your computer and get them printed.  And they come in books so you don't even have to do anything with them when you get them!
Can I cancel and is there a fee for canceling?
You can cancel at anytime and there is NO FEE to cancel.
Download GrooveBook for FREE and then use coupon code GROOVEKOUPON to get your first book for FREE!  Share this with friends and let them try it out too!