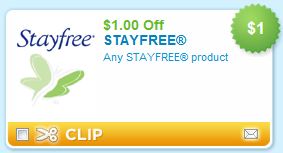 Print a coupon for $1.00 off any Stayfree at Coupons.com.  There is also a coupon for $1.00 off Carefree Ultra Protection Pantyliners.
And Coupons.com reset so you can reprint all the coupons again! I was so excited when I saw this and all ready printed more before they disappear.
And a few more…
$2.00 Welch's Sparkling Juice or Juice Cocktail
and more….