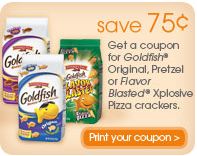 A few more printable coupons before the end of the day.  Print a coupon for$.75/1 Pepperidge Farm Goldfish.  If your store doubles this could make for a great deal when combined with a sale!
$5.00 Sid The Science Kid Talking Doll printable coupon
$1.00 Spot Shot printable coupon
For more printable coupon alerts click here!