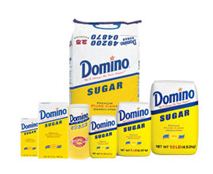 Here's a HOT coupon you don't find very often.  It's not a high value coupon but if your store doubles, it's a little better.  Print a coupon for $.30/1 Domino Sugar product.  Easter's coming so you'll need this for baking!  Hold out for a bit and you'll be sure to catch a sale.
You can also download the 2010 Domino Sugar Baking Calendar which includes 12 great recipes.
Thanks Frugally Thrifty!