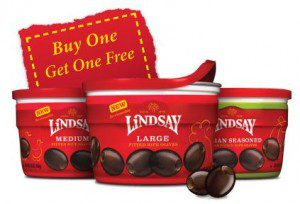 Lindsay Olives has a new product.  It's still olives but they are in re-closeable containers.  These are great for snacking.   My 5 year old L-O-V-E-S olives.  She'd eat the entire can if I'd let her.
You can print a coupon for Buy One Get One Free Lindsay Olive Re-closeables.  You'll need to join the Lindsay Club in order to print your coupon.  Since these are a new product keep your eye open for a sale!
You can also print a coupon for $1.00/2 Lindsay Olive products.
Now if you are a really big Olive Lover, you can enter to win a case of Lindsay re-closeables.  All you have to do is take a quick survey and you'll be entered to win.