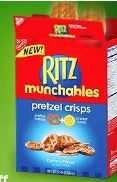 Ritz Munchables Printable Coupon
When  you become a Fan of Ritz on Facebook, you will get a coupon for $1.00 off the new Ritz Munchables.  They are bite size ritz with a pretzel crunch!  Since this is a new product, it may be on sale very soon so perhaps hold onto the coupon for as long as you can to score a great deal!.
Once you become a fan, click on the green box that says Try It and you'll be able to print the coupon.  You should be able to print it twice by hitting the back button.