Disclosure: This post is sponsored by Rhapsody KIDS. My opinions are 100% by own and not swayed by any outside sources! #RhapsodyKids

My girls love music.  I mean they LOVE music!  Usually when they are playing with their dolls or board games they have music on in the back ground.   When we get into the car, the first thing they ask is to put the music on.  And I love hearing them sing.  I love hearing the words they think are in the song, and they don't care if they are right or wrong.  They just love to sing.
My oldest is in 5th grade this year and that is the year you can join the chorus.  It's all she talked about all summer long.  She couldn't wait to be part of the chorus.  Now she is and she love is.  They also have a new music teacher at their school this year and he's a lot of fun.  They sing and dance in all the classes and my girls LOVE that.  (So do I!)
I encourage them to put music on when they are doing chores.  It'll make the time go by faster and the chores seem less like 'chores'.  It usually works and they end up having a good time.  Music can always make something more fun, can't it?!
The only problem I have with my girls enjoying music as much as they do, is some of the music out there is NOT appropriate for kids.  So when I heard of the app Rhapsody KIDS I had to check it out.   It's the first music subscription service to offer a fun, safe, and easy music experience created just for kids.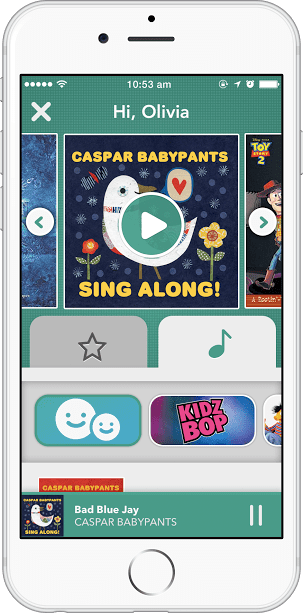 Rhapsody KIDS lets you play the newest and most popular kids music available including hand-picked playlists. As a parent, I feel good knowing what my kids are listening to and their parent-approved playlists are perfect!  I can add music whenever I want.  Music that is good for my girls and songs they will love.  Each kid's favorite tunes are automatically downloaded for easy listening wherever we go, even offline. Kids can play their favorite music in an easy, and colorful interface designed specifically for young children.
This is exactly what we needed!  Now they have music at their fingertips and I don't have to worry about what they are hearing in the lyrics.
Try Rhapsody KIDS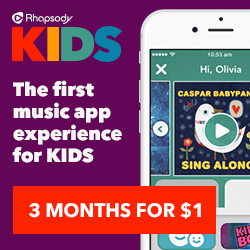 If you'd like to try out Rhapsody KIDS you can get 3 months for just $1!  It's the perfect way to test it out and not invest a lot of money.  After that you'll pay just $9.99 a month for the service.  That's such a great deal!  But don't sit on this offer because it's only available till October 30, 2015.
Be sure to follow Rhapsody KIDS along on social media!
$300 Target Gift Card Giveaway
Now through Friday, October 30, 2015,  U.S. residents ages 18 and up can enter to win a $300 Target Gift Card from Rhapsody KIDS!  Enter below!