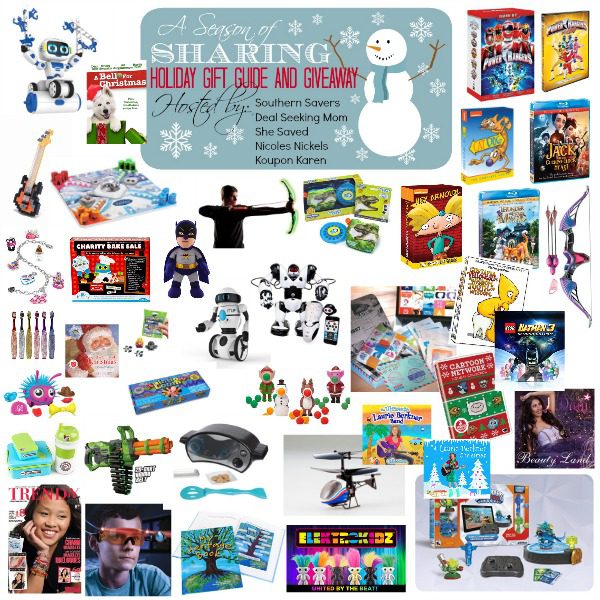 Today is the fourth of five days of awesome gifts and giveaways for the Season of Sharing 2014!  I have teamed up with 4 other bloggers to bring you an amazing 2014 Holiday Gift Guide this year – Koupon Karen, She Saved, Nicoles Nickels, Deal Seeking Mom and Southern Savers.
Today's post is all about gifts for big kids! This post is full of great ideas for gifts for the big kids on your list with all sorts of price ranges.
One (1) lucky winner will win all of the items featured in this post!
---
Product Name: Beauty Land
Purchase Information: Beauty Land is available online at amazon.com and iTunes.
Product Price: $9.99 digital download
$12 CD
Beauty Land, the award-winning debut release by children's musician Dani, is a captivating, interactive concept album, where each song is part of a mini-epic legend of giants, kings, enchanted forests and princesses. Rooted in the same magical soil as Disney's Frozen, The Nightmare Before Christmas, and Shrek, Beauty Land offers a setting where Dani calls upon her considerable singing and storytelling talents to create a modern tale of enchantment that employs elements of mystery, fantasy, and intrepid heroism much like that encountered in The Chronicles of Narnia. With folk, pop, rock, country, electronic, and even jazz and metal influences, Beauty Land is a recording to which a diverse population of kids — from tough to dainty — can relate.
---
Gustafer Yellowgold's Wisdom Tooth of Wisdom, the sixth installment in the award-winning series of Gustafer Yellowgold "Musical Moving Book" DVD/CD sets, continues the earthly adventures of Gustafer Yellowgold, a friendly fellow who came from the Sun and landed in the Minnesota woods. Featuring a musical format Gustafer's creator Morgan Taylor calls "All-Ages Alternative," the Gustafer Yellowgold experience is equal parts pop rock concert and animated picture-book. The songs, by themselves, are loved by people of all ages whose taste runs to alternative pop/rock, while the video elements unfold in graphic novel fashion, revealing an ink and colored pencil fantasy world that's appealing to children.
---
Beloved children's recording artist and preschool TV favorite Laurie Berkner's ninth (and newest) album, The Ultimate Laurie Berkner Band Collection, a compilation of greatest hits, is the follow-up to The Best Of The Laurie Berkner Band, which has consistently been a top-seller on the children's music chart since it was released in 2010. Six Laurie Berkner recordings are represented: Whaddaya Think Of That?, Buzz Buzz, Victor Vito, Under A Shady Tree, Rocketship Run, and the DVD/CD Party Day! The Ultimate Laurie Berkner Band Collection also features three bonus tracks, including the song "One Seed," which has not appeared on any previous album.
---
Get the season started with A Laurie Berkner Christmas! Best-selling children's recording artist Laurie Berkner's Christmas album includes fifteen traditional holiday and seasonal songs, three of which are original tracks: "Santa's Coming To My House Tonight," "Candy Cane Jane," and "Christmas Lights." Laurie Berkner and The Laurie Berkner Band are joined by other talented musicians including acclaimed recording artist Elizabeth Mitchell.
---
The Caped Crusader. The Masked Vigilante. The Dark Knight. The Batman. Bring home the "World's Greatest Detective" with the Bleacher Creatures 10″ Batman plush figure.
---
The Original Rubber Band Loom & Winner of the 2014 Toy of the Year Awards®. Package includes: One Rainbow Loom®, One Mini Rainbow Loom®, One yellow color hook with metal tip, A bag of 600+ mixed color latex-free rubber bands, A bag of 25 c-clips and An Instruction manual for making simple bracelets. This kit is enough to make up to 24 rubber band bracelets.
---
The Guinness World Record Title for the Smallest RC Helicopter! With a size of just 65mm and weighs just 11g, this 3 channel indoor heli flies up and down; forward and backward; left and right. Built-in Gyro Stabilizer makes flying easier.
---
Product Name: nanoblock
Purchase Information: Available at Specialty stores
Product Price: $13.49 and up
With over 130 assorted size pieces, you will be amazed as these take shape right beneath your fingertips!
---
Product Name: Bling
Purchase Information: Available at Walgreens.com, in-store and at brushbuddies.com
Product Price: $14.95
The elegant gems lock securely into the brush handle, using a glueless patent-pending ultrasonic process. Brush head features advance dual-action soft bristles on front and tongue and check cleaner on back. The easy-to-hold handle is designed for right and left-handed brushers and the gems in the brush provide a slip-resistant grip making brushing easy and glamorous! Available in multiple colors.
---
With its stylish magazine look, TRENDiY Art™ is an assortment of edgy and fashion forward arts and craft activity kits inspired by the latest designer's creations. Each kit contains everything needed to create these one of a kind fashion accessories.
---
Your favorite 1-inch figures have gone FREAKY! From the makers of TeenyMates come the TeenyFreaks! Collect them all, but don't get on their bad side….
---
Night Vision Goggles that allow you to actually see in the dark! Two powerful LEDs allow hands-free light for your spy activities and nighttime fun. The soft nose bridge and adjustable head strap provide a comfortable fit for kids.
---
Take a pre-historic journey with the Discovery Kids Viewmaster Gift Set. Complete with a storage case and three reels featuring 21 3-D images and factsof dinosaurs from prehistoric times!
---
This sampling of our waterproof labels make great gifts. Durable, colorful, waterproof labels make your gift giving easier.Personalize this pack with one design and up to six names.
---
Product Name: Skylanders Trap Team
Purchase Information: All major retailers, including Amazon.com
Product Price: $74.99 for the starter pack
Skylanders Trap Team, the newest installment of the Skylanders franchise, reverses the magic of bringing toys to life – incredibly letting kids take characters out of the digital world into the physical world, effectively bringing life to toys. Portal Masters seek out and defeat the most wanted villains in all of Skylands, pulling them out of the game by capturing them in special Traps. Players can then send villains back into the game where they play as them to fight for good!
---
Just in time for the holidays, Anchor Bay Entertainment brings home A Belle for Christmas, an uplifting comedy about family, friendship and a four-legged holiday miracle. The film, starring Dean Cain (The Dog Who Saved the Holidays, "Lois & Clark: The New Adventures of Superman"), Kristy Swanson (Big Daddy, Buffy the Vampire Slayer), Jet Jurgensmeyer (The Little Rascals Save the Day), and Haylie Duff (Material Girls,), will be making it's national retail debut on November 4, 2014. A Belle for Christmas is priced to own at $19.98 SRP.
---
Just in time for holiday gift giving, Cartoon Network brings you the Cartoon Network Holiday Collection DVD; the perfect gift for everyone on your list. This instant holiday classic DVD will feature five hit Cartoon Network series on one value-priced DVD! You'll be dashing through the shows with Adventure Time's Holly Jolly Secrets Parts 1 & 2, the Christmas episode from The Amazing World of Gumball, and The Christmas Special from Regular Show. As an added holiday gift, Cartoon Network Holiday Collection DVD will also feature bonus episodes from new series Clarence and Steven Universe, which both mark their DVD debuts in this all new release. Cartoon Network Holiday Collection DVD is currently available for the suggested retail price of $14.98.
---
Ho, Ho, Ho! Holiday Poppers are here!
Now there's more holiday cheer, the ever-festive Holiday Pig Popper is joined by three new winter wonderland friends: the Holiday Snowman, Holiday Elf and Holiday Reindeer!
---
Product Name: Firetek Bow – Zing
Purchase Information: The Firetek Bow can be purchased in Walmart stores and on www.Walmart.com
Product Price: $29.97
Light up the day or night with the new Firetek Bow from Zing! The latest addition to the Air Storm line of "parent-approved" launchers is the ultimate foam bow and arrow archery toy – now with blazing LED light-up power for an illuminating effect for any type of target practice! The Firetek Bow was named Walmart's 2014 Chosen by Kids Toy Toys Kids and The Toy Insider Hot 20.
---
For target practice across the couch or outside past the backyard bushes, the fully automatic motorized Scorpion Gatling Blaster is the season's most exciting high-capacity dart blaster boasting speed and performance at a great price. Featuring rapid-fire action and a colorful rotating barrel, this blaster is designed to shoot up to 20 Super Darts in under 20 seconds. For the kid who is serious about play, Super Darts offer the best performing action on the market – soaring up to 70 feet through the air!
---
Product Name: CHARM IT!
Purchase Information: GapKids
Product Price: All charms and accessories are sold separately. Charms are $5 each and Bracelets are $5 -$14.
CHARM IT! is the original, detachable charm jewelry brand for girls ages 5, 14 and everything in between. On the wrists of happy girls everywhere, CHARM IT! holds the secret to inspiring smiles for the holidays or just because! With attention to detail, innovation, and little surprises, each charm is a mini-masterpiece for girls to tell the story of who they are and what they love.
---
Product Name: My Heritage Book
Purchase Information: My Heritage Book can be purchased at www.myheritagebook.com and Heritage Manor Gift Shop (American Adventure Pavilion) in Epcot at Walt Disney World Resort.
Product Price: $42.95 (includes up to 4 different countries; $5.00 per additional country)
My Heritage Book is a unique personalized children's book based on a child's heritage. Each hardcover book is custom made, has the child's name throughout, and combines beautifully illustrated, fun, educational topics on up to eight different countries. Each book also has a letter to the child from the gift-giver(s) and pages for the child to fill in his/her own family's traditions and family tree, making it a truly unique keepsake for each recipient.
---
Kids will love to get creative in the kitchen with the EASY-BAKE Ultimate Oven. This oven has a stylish look and modern functions perfect for today's tweens! Chefs-in-training will love to gather with their friends to bake and decorate sweet and savory snacks in this oven which features a heating element similar to a conventional oven and that does not require a light bulb.
---
Product Name: MiP
Purchase Information: wowwee.com
Kmart
Target
Fry's Electronics
Best Buy
Toys R Us
Product Price: $99.99
Equipped with GestureSense technology, your new robotic best friend that balances on 2 wheels, can be controlled with the movement of just your hand. MiP plays games, dances, explores, and with the free app can be controlled with a smart phone. MiP is a balancing robot that can hold twice its weight and even chunky chocolate cookies.
---
Elektrokidz are music inspired collectables that have hair that dance to the beat of the music you listen to or the sound you make. There are 6 unique Elektrokidz that come in 6 different finishes, including gold and matte black. Each of the Elektrokidz has its own special hair movement.
---
Product Name: Tipster
Purchase Information: www.wowwee.com
Target
Walmart
Kmart Toys R Us
Fry's Electronics
Product Price: $49.99
Tipster is the amazing new robot with 5 different play modes with an easy to use remote for younger robotics lovers. Tipster combines a fun personality with interactive activities like balancing, stacking, counting, & more. The balancing canister acts as a great game piece keeper for easy clean-up.
---
Just pop in 1 of Noomies 6 "active" themed accessories and watch her come to life as she assumes fun and exciting personalities. This soft RC is always on the go whether she is a rootin-toot'n cowgirl or a sweet kissy-faced hug-a-bunch, Noomie has over 450 sounds and is touch sensitive.
---
Robosapien X is the classic robot with new fun features. This radical robot is 14inches tall and designed with a NASA scientist. Robosapien X comes to life using the included remote or via IOS or Android device.
---
The Adventurer Package includes eight books introducing world cultures through captivating adventures. The package arrives stamped and postmarked from abroad, personally addressed to kids. Inside the very stylish shipping box, along with the books (in their own decorative case), kids will find a "top secret" invitation from our main character inviting them to join his secret online community of kid world explorers.
---
Product Name: The Spirit of Christmas: A Giving Tradition (Gift Set with book, bell, and giving bag)
Purchase Information: The Spirit of Christmas Gift Set is available at local Independent Bookstores, Costco, Kmart, Meijer, ShopKo, Target, Toys R Us, and the special edition that includes Dear Santa Stationery at Walmart.
Product Price: Retail: $24.99
It's Christmas and there will be carols, candy canes and presents! But what about children in need? Kind-hearted Drew wants to help them in this magical story of how one little boy received a very special Giving Bag from Santa.
---
Product Name: LEGO® Batman™ 3: Beyond Gotham
Purchase Information: Amazon.com
Product Price: $49.99 – $59.99
In LEGO Batman 3: Beyond Gotham, the Caped Crusader joins forces with the super heroes of the DC Comics universe and blasts off to outer space to stop the evil Brainiac from destroying Earth. Using the power of the Lantern Rings, Brainiac shrinks worlds to add to his twisted collection of miniature cities from across the universe. Now the greatest super heroes and the most cunning villains must unite and journey to different Lantern Worlds to collect the Lantern Rings and stop Brainiac before it's too late.
LEGO Batman 3: Beyond Gotham, the ultimate super hero game for the entire family, launches November 11th on Xbox One, Xbox 360, PlayStation 4, PlayStation 3, PS Vita, Wii U, 3DS and PC.
---
Give the Oppenheim Toy Portfolio Gold Seal Award-winning gift that empowers kids to make a difference! The timeless, meaningful family-fun of putting on a charity bake sale to make a difference for a cause you love is easy with the essentials: 3 signs, decorate-your-own money box, stickers, sales pad, plus an information-packed 24 page book with how to pick your cause, recipes, marketing plan, budget, sales strategies, and more!
(Ages 5-105, adult supervision required)
---
Your favorite football head and all his pals are here with enough fun and laughs to cover several city blocks! Shout! Factory is releasing Hey Arnold! The Complete Series, a 16-DVD box set featuring all 99 big-city adventures from the classic Nickelodeon animated series.
---
So you think you have trouble dealing with your sibling? Then you'll howl with laughter and meow for more watching the madcap misadventures of the feline and canine brothers who bring a whole new meaning to the idea of "family bonding" in CatDog: The Complete Series.
On October 14th, Shout! Factory will release all 68 episodes of this fan-favorite series as a complete series DVD for the first time.
---
This fall, venture inside an intriguing mansion full of endearing animals and a dazzling array of automatons and gizmos, and spellbound by the exciting animated adventure of Thunder and the House of Magic. Shout! Factory is proud to present Thunder and The House of Magic on DVD and on two-disc Blu-ray 3D Combo Pack (Blu-ray 3D and 2D, DVD and digital), available exclusively at Walmart stores everywhere.
---
Step inside the imaginative story book world of the highly popular French novel La Mécanique du Cœur (The Boy with the Cuckoo-Clock Heart) and beguiled by the wildly inventive adventures of Jack and Miss Acacia as they leap from page to the screen. Shout! Factory, in collaboration with EuropaCorp, is proud to present Jack And The Cuckoo-Clock Heart on DVD, two-disc Blu-ray Combo Pack (plus DVD and Digital) and Digital HD.
---
Join the Power Rangers as they battle the dreaded villain Divatox at rapid speed when Shout! Factory releases Power Rangers Turbo, Volume 1, a 3-DVD box set that contains the first 23 episodes of the series.Continuing from the exciting events of Turbo: A Power Rangers Movie, the five Turbo Rangers use their new powers, weapons and high-tech supercharged vehicles to battle evil at faster speeds than ever before!
---
Saban's Power Rangers, one of the world's favorite children's action-adventure series, returns with five more powered up seasons! The adventures continue when Shout! Factory, in conjunction with Saban Brands, releases Power Rangers: Seasons 13-17 in a 21-DVD box set. The collection includes the fan-favorite Power Rangers S.P.D., as well as the explosive Power Rangers Mystic Force, Power Rangers Operation Overdrive, Power Rangers Jungle Fury and Power Rangers RPM.
---
The NERF REBELLE AGENT BOW is perfect for high-profile missions that require accuracy and skill. Release the string and watch as the first ever Nerf Rebelle foam arrows soar up to 85 feet across the sky making a whistling sound! The NERF REBELLE AGENT BOW is perfect for high-profile missions that require accuracy and skill. Release the string and watch as the first ever Nerf Rebelle foam arrows soar up to 85 feet across the sky making a whistling sound!
---
Pop the bubble to save Olaf in this Disney version of the classic TROUBLE game! You can play this game as your favorite Frozen character, and your job is to travel around Arendelle to save Olaf. But watch out for the avalanche!
---
And here is the part you have been waiting for!
One (1) lucky reader from Nicole's Nickels, She Saved, Deal Seeking Mom, Koupon Karen and Southern Savers will win all of the items featured in this post! This prize is valued at over $1200!

To enter, just complete the form below!
I received the same products shown above for review. My opinions are 100% my own.
And here is the part you have been waiting for! One (1) lucky reader from Nicole's Nickels, She Saved, Deal Seeking Mom, Koupon Karen and Southern Savers will win all of the items featured in this post! This prize is valued at over $1200! To enter, just complete the form below!
I received the same prize as the winner. My opinions are 100% my own.