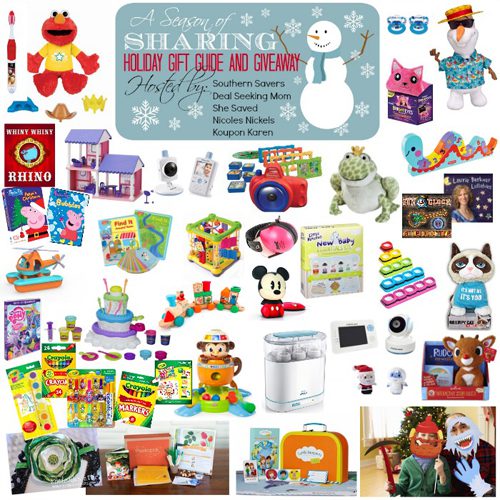 Today is the second of five days of awesome gifts and giveaways for the Season of Sharing 2014!  I have teamed up with 4 other bloggers to bring you an amazing 2014 Holiday Gift Guide this year – She Saved, Nicoles Nickels, Deal Seeking Mom and Southern Savers.
Today's post is all about gifts for the little ones! It's so great to watch kids open holiday presents up – they get so excited! All of the items below are great gift ideas for any children on your list!
One (1) lucky winner will win all of the items featured in this post!
---
Product Name: Laurie Berkner Lullabies
Purchase Information: Laurie Berkner Lullabies is available online, amazon.com, iTunes, and at retail outlets nationwide
Product Price: $9.99 digital download
$13.98 CD
Good night, sleep tight, and sweet dreams! Award-winning children's recording artist and preschool television favorite Laurie Berkner's first-ever lullaby album, Laurie Berkner Lullabies, features traditional lullabies ("Hush Little Baby," "Little Boy Blue") as well as brand new songs to lull little ones to sleep ("Fireflies," "All the Planets"). The album also includes re-worked versions of some of Laurie's classic originals ("Under A Shady Tree," "Five Days Old") –and, of course, the beloved Laurie Berkner bedtime favorites, "Moon Moon Moon" and "Goodnight."
---
Multi-award-winning In The Nick of Time has made a name for itself by being eclectic, and this album continues the tradition! Fun O'Clock is a trip through the decades of 100+ years of popular music, and it's also a bit of a musical journey around the globe, with styles ranging from classic rock and roll, jazz, country, and '80s hip-hop, to ska/reggae, Celtic, indie rock, and even some Renaissance influence. As a teacher, In The Nick of Time's Nick Deysher always look for ways that his music can educate, whether he is discussing healthy living habits in "You've Only Got One Body" and "Namaste," or describing the life cycle of a butterfly in "Flutter By Butterfly."
---
Baby can drop many balls into the barrel, press the monkey's light-up nose, melodies and sounds will start to play, and the monkey will hide inside the barrel!
As baby grows, they can pull themselves up to play.
Drop balls into the monkey's hat. The lights on his hat will dance and play fun monkey sounds. The monkey will hide in the barrel, and the balls drop down to the base spinning round and round.
---
You now have a solution to providing hearing protection for children with sensitive hearing and those little ones that just need a little hearing protection. The BanZ hearing protectors effectively attenuate harmful loud noises without shutting out other ambient sounds. The earmuffs are easy to wear, comfortable and stylish!
---
NUK® Elephants & Butterflies Orthodontic Pacifiers feature true orthodontic nipples to promote healthy oral development while soothing baby.
---
Product Name: Highlights Let's Grow
Purchase Information: Available for purchase exclusively from Highlights.com/letsgrow
Product Price: 50% off your first bundle! That's $12.48 plus $3.95 shipping and handling. After the first shipment, $24.95 each, plus $3.95 shipping and handling
Light up little eyes every month with our engaging and enriching themed bundles that celebrate the everyday moments of babyhood. Each bundle's specially created board books and exclusive surprises create fun and developmentally rich experiences for parents and babies to share together throughout the day.
---
The Green Toys® Seacopter is specially designed with stabilizing, oversized fill-and-spill pontoons to keep it steadily afloat, this amphibious flier is perfect for water play – whether in the bath or at the beach. Featuring a large top rotor and additional tail rotor, the Seacopter also includes a pilot bear figure for the open-design cockpit. The whole set is made in the USA from 100% recycled plastic milk jugs that save energy and reduce greenhouse gas emissions.
---
With the new Brush Buddies WWE Brush Beatz Theme Song Toothbrushes, fans can enjoy brushing their teeth while listening to two different "theme songs" from The Rock, John Cena, Randy Orton and Daniel Bryan. Both songs will play for two minutes, which is the dentist recommended brushing time.
---
Activity Centre Cube is an activity toy featuring unlimited fun and play time for your little one while helping in their overall growth. This wonderful activity cube toy will keep kids happy for hours. This educational toy will stimulate their senses and helps in developing motor skill.
B kids, innovators in the development of classic and educational toys for infants to toddlers, teams up with Room to Grow this holiday season to help children in need. B kids will donate a portion of its toy proceeds from specialty retail partners. Help us spread the word! Learn more at http://care.bkidsfun.com/.
---
Peekapak is a monthly subscription of hands-on, learning packs for kids ages 4-8 to foster creativity, imagination and literacy. Designed with early childhood educators, families read an original storybook and are challenged to build 2-3 craft "play props" to bring the story to life. Every month Peekapak delivers a new adventure that encourages families to read, create and play together for a fun and educational experience.
---
Tiggly Counts is the first iPad math toy intended for children ages 3 and older. Inspired by classic cuisenaire rods used in Montessori education, Tiggly Counts includes a set of five colorful counting Toys that interact with three parent- and educator-approved. Tiggly iPad learning apps. The combination of physical and digital play helps children develop their number sense, counting skills, and understanding of math operations, such as addition and subtraction.
---
Product Name: Whiny Whiny Rhino
Purchase Information: Amazon.com
Product Price: $9.99
Can Tiny Tiny Rhino have a fun day?
Or will all of his whining get in the way?
If you've ever been worried to try something new,
then Whiny Whiny Rhino is the book for you!
---
We're melting with excitement because Olaf, Anna Bear and Elsa Bear have arrived at Build-A-Bear Workshop! These adorable plush Frozen friends will simply melt your heart with hugs. Choose from the hit songs "In Summer," "Let it Go" and "First Time in Forever" to add to your new cuddly friend.
---
Watch as your children race to the mailbox every month to learn about characters Sam and Sofia's latest destinations. Follow their exciting adventures around the USA and the world, inspiring a love and understanding of the world as your child learns about geography, history, culture, and language in a fun and memorable way. Monthly packages arrive filled with lots of goodies and access to online games and activities.
---
Peppa Pig, the #1 preschool show on Nick Jr., is coming to the U.S. on DVD. On November 4, you and your family can get into the festive spirit by watching the brand new holiday special DVD, Peppa's Christmas. With 12 fun-filled "peppasodes" to enjoy, you can celebrate the season by decorating, singing and sorting along with Peppa and her family.
---
On December 2, Peppa Pig will be back but this time in a 14 episode DVD titled Bubbles. This lovable, cheeky little piggy will be up to her usual activities – playing games, dressing up, visiting exciting places, making new friends and of course, jumping up and down in muddy puddles!
---
Named to Toy Insider's list of Hot Holiday Toys for 2014- Fireflies twinkle in this cuddly Frog's belly to create a magical glow that helps ease children's fear of the dark and ensures a complete night of restful sleep. With its crown-topped head and sweet charm, this special friend offers enchanting playtime fun. Two soothing sounds options including rain and crickets or a lullaby melody help children transition from playtime to bedtime
---
For smaller spaces APT offers all the fun but half the size of the Delightful Dollhouse with the Fashion Doll Cozy Cottage. Featuring the same open-air floor plan as its larger counter part, with three flexible floor plans and 13 included accessories, the Cozy Cottage encourages interactive play and the perfect environment for a Fashion Doll to relax in. Suited for play with most of today's most popular 11 – 11 1/2 inch fashion dolls.
---
The Fisher-Price Little People Photo Discovery Game is a educational matching game for the little photographers in your family! Kids can go on an adventure with their favorite Little People friends and discover a world of cute animals.
The Fisher-Price Little People Photo Discovery Game encourages thinking, problem solving, sharing and cooperation.
---
Bring the learning adventures from the Elmo the Musical segment on Sesame Street off the screen and into the family room with the interactive LET'S IMAGINE ELMO plush! This cute 13-inch Elmo pal comes with three different hats that unlock different imaginary themes and play modes.
---
It's layers of fun at the CAKE MOUNTAIN playset! With the new CAKE MOUNTAIN playset there are tons of ways to make amazing cake creations. The fun starts at the top when you load one of three different cake molds with PLAY-DOH compound, then 'press and pop' to make your cake!
---
The new Philips/Disney SoftPal is a fully portable and safe nightlight that creates a soothing bedtime atmosphere. With its warm, calming glow, SoftPal helps children fall asleep and move around the house at night, allowing them to feel comfortable both in and out of their beds, and when off their platform, children can simply squeeze SoftPal to maintain the light, making them a useful nighttime guide. Coming in four iconic Disney characters, SoftPals add a touch of Disney magic into your child's bedtime routine.
---
Adjustable in size, the Philips Avent 3-in-1 Electric Steam Sterilizer is an easy and effective way to sterilize all your feeding products and accessories. Natural steam sterilization kills 99.9% of harmful germs and keeps content sterile for 24 hours if the lid remains unopened. Smart, compact design takes up little space in your home, while able to fit up to 6 Philips Avent bottles or 2 Philips Avent breast pumps.
---
These interactive plush characters help bring story time to life. Rudolph's nose glows as he responds to key phrases in the story when read aloud. Shoppers can participate in "Buy a Buddy, Give a Buddy." Each time a customer buys an Interactive Story Buddy® at a Hallmark Gold Crown store, Hallmark will donate an Interactive Story Buddy to Toys for Tots.
---
Celebrate 50 years of your favorite Christmas special with fun characters from the Rudolph the Red-Nosed Reindeer movie—all in itty bitty size. Hallmark will donate $1 to Toys for Tots each time one of the Rudolph®, Santa Claus, Clarice® or Bumble® itty bittys is purchased.
---
Let the reindeer games begin! Capture holiday memories with memorable photos using these 15 holiday props, including Rudolph with a glittery red nose.
---
Ponies make the best friends! With that in mind, My Little Pony Friendship Is Magic: Keys Of Friendship is coming to DVD in the U.S. and Canada from Shout! Factory Kids in collaboration with Hasbro Studios. The 5 episodes include "Rarity Takes Manhattan," "Pinkie Apple Pie," "It Ain't Easy Being Breezies," "Twilight's Kingdom, Part 1," and "Twilight's Kingdom, Part 2." A fun sing-along is included as a bonus feature.
---
Named best dressed at the 2014 MTV Movie Awards, spokes-cat for Friskies Party Mix and releasing a live-action movie this Christmas, meet Grumpy Cat! She's the internet's grumpiest feline with millions of fans all over the world.
Grumpy Cat is a 10″ seated plush that comes wearing a fashionable t-shirt in two different colors, featuring four of her favorite phrases.
---
Sunny days are sweeping the clouds away and bringing Sesame Street wood toys to you! Kids can roll around the room playing with their favorite characters with the Sesame Street Blocks Train.
The Sesame Street Blocks Train is made from quality, natural wood and includes:
– Three wooden train links connected by hook & eye
– Eight assorted printed blocks, plus Elmo the conductor
– Four rolling wheels on each train link
---
Bright Eyes Blankets is a new blanket created by the makers of Snuggie. The friendly animal faced blankets are machine washable and made from high quality soft fabric with heavy duty stitching. The blanket keeps kids warm with its hood and paws or feet. The collections include the Playful Puppy, Kool Kitten, Precious Panda, and the Darling Duck.
---
No little girl's wardrobe is complete without a few hair accessories and at Adelaide's Attic, you'll find a collection of both classic and trendy pieces to complement every outfit. Don't see what you're looking for? Custom orders are always available with a short turnaround time.
---
The Little Remedies New Baby Essentials Kit comes with everything thing you need for life's unexpected health emergencies for your newborn to two-year-old. The essentials for new baby kit comes with a starter set that includes all the necessities, such as an infant acetaminophen fever/pain reliever, soothing syrup, saline drops, gripe water, gas drops, a nasal aspirator and four syringes.. Little Remedies believes "less is more" and makes each of the products contained in this kit with the fewest and most natural ingredients it can use without sacrificing each product's effectiveness.
---
The Foscam FBM3502 is the cutting edge of baby monitor technology for versatility, privacy, and ease of use. Comes standard with auto motion tracking with pan/tilt, enhanced night vision, video-off feature, lullaby, digital zoom, two-way audio, temperature Monitor, 3.5″ LCD, 2.4 Ghz Wireless FHSS.
---
The Foscam FBM2307 excels in affordability and ease of use. It has a host of features which include night vision, 2.4 Inch Touchscreen LCD, VOX video toggle, rechargeable battery, and more. All purchases from Foscam come with our 1 Year Domestic Warranty, making our quality engineered FBM2307 model one of best values available for a baby monitor purchase.
---
Play while you create with Pip-Squeaks In Disguise, Crayola markers dressed up as colorful characters. Markers turn into action figures with snap on accessories.
---
Great for use at home or school, Crayola Crayons are an essential creative tool for kids. This pack of crayons contains classic colors as well as bright, fun shades!
---
30-page Color Wonder refill pad for use with Color Wonder mess-free products.
---
The world's most washable non-toxic broad line markers now come in an improved Ultra-Clean formula that washes easily from skin, clothing, and walls.
---
Color Wonder Gel Paints are mess-free, clear and fast drying. It magically appears on Color Wonder Paper and won't appear on skin, walls, or carpets.
---
And here is the part you have been waiting for!
One (1) lucky reader from Nicole's Nickels, She Saved, Deal Seeking Mom, Koupon Karen and Southern Savers will win all of the items featured in this post! This prize is valued at over $1000!

To enter, just complete the form below!
I received the same prize as the winner. My opinions are 100% my own.