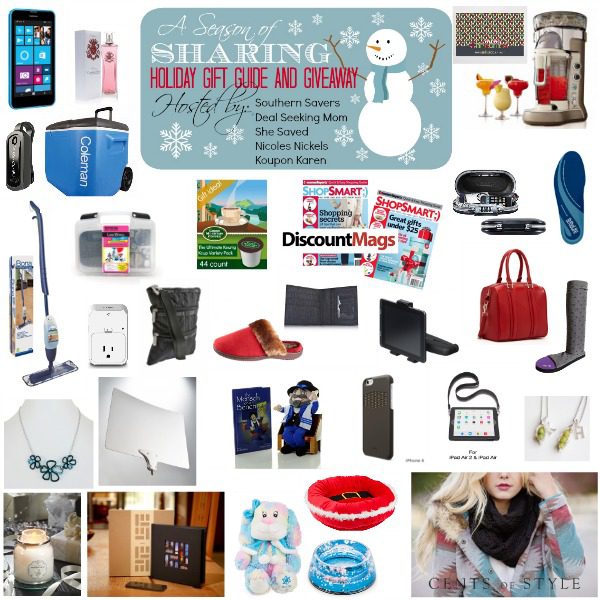 Today is the third of five days of awesome gifts and giveaways for the Season of Sharing 2014!  I have teamed up with 4 other bloggers to bring you an amazing 2014 Holiday Gift Guide this year –  She Saved, Nicoles Nickels, Deal Seeking Mom and Southern Savers.
With so many people on your gift list, this post will surely have something for any man or women in your life!  Even the dog lover.  Today's post is all about gifts for him and her!
One (1) lucky winner will win all of the items featured in this post!
---
Audiovox new Universal mount system is compatible with most Android and iOS based tablets and offers you docking capabilities for your tablets. The Universal tablet mount has an adjustable clamp mechanism that safely and securely locks your tablet into position.
---
This is the first-ever fully automatic "shave, blend n' serve" machine, dispensing freshly blended restaurantquality frozen drinks, in minutes with the push of a lever. Enjoy perfectly prepared frozen drinks from one of four programmed cycles — 'Ritas, Daiquiris, Coladas and Smoothies. And, the Remix channel re-blends every time before dispensing a drink to ensure smooth texture. Drink settings are programmed to shave and blend a half (30 oz.) or full (60 oz.)
chamber.
---
Now you can try a HUGE variety of Keurig Kcup coffees with our ultimate variety pack. You will receive 44 flavored and regular roast Kcup coffees including:
6- Caramel Vanilla Cream
6- French Vanilla
6- Hazelnut
4- Wild Mountain Blueberry
6- Breakfast Blend
6- Vermont Country Blend
6- Dark Magic
4- French Roast
Compatible with classic Keurig models and Keurig 2.0. Makes a great gift!
---
Affordable, fashionable, and a great gift. This ultra-soft cable knit infinity scarf comes in a wide variety of colors and will make the perfect gift for your mom, teacher, coach and girlfriend, especially at $9.95 shipped!
---
The essential cooler for holiday parties and year-round entertaining, this amazing cooler is great for stashing beverages and ice, as a table surface, or for additional guest seating! An expansive 60-Qt capacity combined with all-terrain wheeled portability and a telescoping handle makes it a great solution, indoors or out. No matter the location, everything in the cooler will stay just the right temperature thanks to ThermOZONE™ Insulation.
---
The Master Lock No. 5900D SafeSpace® Portable Personal Safe features durable construction made to withstand abuse and is water resistant. The safe measures 2-1/5in (57mm) H x 9-2/5in (23.9cm) W x 5-1/10in (13.1cm) D; and is ideal for recreation, campus, office, travel or leisure use. The safe includes a cable to wrap securely around a fixed object or use as a carrying handle.
---
Product Name: WeGo CLIP
Purchase Information: WeGo activity trackers can be found at the following retailers: Amazon.com, Sports Authority, Dick's Sporting Goods, Big 5 Sporting Goods, Meijer, Dunham's Sports, Academy, City Sports, Hibbett Sports
Product Price: $69.99
The WeGo CLIP is an affordable 24 hour activity tracker that helps support a happy, healthy lifestyle. The CLIP is easy to use and syncs wirelessly to your smartphone.
---
Product Name: D-Link Wi-Fi Smart Plug (DSP-W215)D-Link Wi-Fi Motion Sensor (DCH-S150)
Purchase Information: The mydlink Connected Home solutions are available in the US at Office Depot, OfficeMax, Best Buy, Amazon.com and throughout D-Link's vast network of retail and e-tail outlets. Detailed specifications are available online at www.dlink.com
Product Price: The Wi-Fi Smart Plug (DSP-W215) is now available for $49.99.The Wi-Fi Motion Sensor (DCH-S150) is now available for $39.99.
D-Link's Connected Home solutions truly simplify home automation and security. The Wi-Fi Smart Plug allows users to monitor and control their home's electronic devices anywhere – set power on/off schedules, turn devices on and off remotely and monitor energy usage at home or on-the-go.
The Wi-Fi Motion Sensor alerts users of activity with a push text or notification as soon as motion is detected, whether you want to know when the kids get in from school, make sure the puppy goes outside during the day, or receive an alert when the garage door opens.
---
From Yankee Candle's limited edition Shimmer & Sparkle collection, this candle will elevate the frequent entertainer's candlelit ambiance to a new level of shimmering and sparkling elegance. The Sugared Apple fragrance is a deliciously sweet apple treat – a perfect recipe of juicy apples sprinkled with sugar and vanilla.
---
Product Name: The Mensch on a Bench
Purchase Information: Target.com, ToysRUs.com, BarnesandNoble.com
Product Price: $29.99
The Jewish alternative to The Elf on a Shelf, adding more Funukkah to Hanukkah! The Mensch on a Bench is the story of Moshe the Mensch who watched over the Jewish people during the great miracle of Hanukkah. Includes: 12″ plush doll, hardcover book, and removable bench.
---
Pong creates cases for today's most popular smartphones and tablets, but these aren't your average cases. Offering minimalistic and lightweight designs, Pong cases also protect you from potentially harmful radiation that can be absorbed into the head or body while using or carrying your device.By redirecting the signal away from the head and body, Pong cases reduce exposure to potentially harmful radiation up to 90% below the industry standard limit (the Specific Absorption Rate) — details vary by device and carrier.
---
Inspired by country gardens, English Rose Eau De Perfum by English Laundry features traces of white chocolate and rich, floral notes with a woodsy finish. English Rose is available online and at high-end retailers, including Nordstrom, nationwide. Prices start at $56, making it an affordable luxury scent.
---
Mosaic by Mixbook is an app that lets you create stunning photo books right on your iPhone or Android ! The process is fast and easy — just tap, pick those great birthday or vacation photos, flip through the book preview, and order! Best of all, it's always with you so you can create wherever inspiration strikes.
---
Including the LW-300 (a portable battery-powered handheld label printer) and two ribbon tape cartridges in a convenient carrying case, the LabelWorks Printable Ribbon Kit allows users to print messages, names, initials, and symbols directly onto satin ribbons. With a variety of fonts, symbols and frames, users can create personalized satin ribbons for crafts, scrapbooks, decorations, gifts and more. The LabelWorks Printable Ribbon Kits makes the perfect gift for anyone looking to get creative or organize the home or office.
---
The Sonja from Isotoner® Signature is a modern, multi-functional winter accessory, offering indulgent comfort and effortless style. The lightweight microsuede clog slipper features faux mink fur trim and is lined in warm, cozy fleece, making it a classic choice for lazing around the house on Sunday afternoons or running a few errands on a long day after the high heels come off. Available in four colors, Black, Ash, Chili Pepper Red, and Buckskin, the Sonja is a designed to discreetly blend with any outfit. Finally, a slipper you will want to wear past the mailbox!
---
These everyday custom placemats, craft mats, doodle mats & party mats are a fun way to commemorate a birthday, celebrate a great report card or any "special" accomplishment, and even protect tables and floors from any sticky, gooey mess! Makes for easy cleanup, just toss it after use, the possibilities are endless! These placemat pads are 17" x 11" and come with 25 sheets.
---
ShopSmart magazine is a top seller at DiscountMags and is the perfect gift idea for anyone who loves to shop and save!
DiscountMags is Everything You Want, Nothing That You Don't!
With free shipping and handling, easy cancellation for a full refund of un-shipped issues and no automatic renewals, you'll never be charged for a subscription that you're no longer interested in.
---
Product Name: Classic Leather RFID Security ID Wallet
Purchase Information: Order online at www.Allett.com or to find a dealer near you. Allett thin style wallets may be purchased at select stores throughout the United States, as well as Canada and Germany.
Product Price: $49.95
The Identity Safe RFID Wallet provides security you can trust. Built to protect against the most tech-savvy thief; this wallet is lined with an alloy which blocks incoming radio frequencies. Created with style and comfort in mind, this wallet is wafer thin with a sleek Napa leather exterior.
---
You'll fall in love at first sight .. because this gorgeous Turquoise and Teal Necklace is absolutely beautiful. Numerous tiny turquoise crystals accent three pretty teal flowers that dangle in perfect symmetry on an adjustable silver chain. This necklace is the perfect accent piece and an absolute MUST HAVE.
---
Product Name: Sweet Peas in a Pod Necklace
Purchase Information: This can be purchased on BelleChic from November 24th-November 30th. www.bellechic.com
Product Price: $19.99 and $1.99 shipping.
Use the code GIFTGUIDE and get free shipping.
Capture your little sweet peas in this whimsy pea pod necklace. Includes up to 5 peas (at no extra cost) in a handmade, wired pea pod. This adorable necklace hangs from an 18″ stainless steel ball chain and includes an initial charm.
---
Spa Flops are new, patent-pending pedicure shoes for the cold weather. The perfect gift for women on-the-go, Spa Flops keep legs and feet warm while nail polish dries! No more smudging polish by putting on socks too soon or wearing flip flops from the salon in the cold.
---
Bona Hardwood Floor Mop is a premium spray mop combo that includes Microfiber Mop and Bona Hardwood Refill Cartridge all in one! Quick, easy to use, and leaves no dulling residue. GREENGUARD certified Bona cleaner is safe for homes and families.
Bona Hardwood Floor Wet Cleaning Pads are Bona's answer to quick, easy cleaning. Same Bona GREENGUARD certified, no dulling residue cleaning formula in a convenient, quick-use cleaning pad.Pads can clean a 15-inch extra-wide section of floor and flexible pouch packaging contains 75% less plastic than the leading competitor brands.
---
OrthoLite is the world's leading provider of comfort insoles found in many of the top running, hiking, dress and casual shoes. These insoles are a great budget-friendly stocking stuffer for the active person on your list that is always on their feet!
---
The Innovative Care Products "Air Professional" case (for iPad Air 1 & 2) features a shoulder strap that allows a busy mom to carry an iPad while freeing-up her hands to attend to the needs of a child or to perform other important tasks. The strap also helps to keep the iPad from being dropped or lost, and the case is thin, compact, stylish and made from lightweight, rugged and durable material that can easily be cleaned with a damp cloth. Taking photos or videos of your child is easy because the uniquely shaped front cover does not block the iPad's rear camera lens when it's folded against the back of the case, and the front cover folds behind the case to create an angle for typing or an easel for upright viewing purposes.
---
As seen in Life & Style and In Touch magazines and on E News! TV, this 100% Genuine Leather Handbag was influenced by the downtown design scene of SOHO New York and the emerging art and fashion scene of downtown Los Angeles. Save 20% off any SUSU bag with Coupon Code: SUSU20
---
The Cricket Wireless Nokia Lumia 635 is the perfect gift this holiday season for smartphone lovers on a budget. Equipped with the latest generation Windows Phone 8.1 operating system with Cortana, a personal digital assistant that can learn your interests and provide tip and helpful appointment reminders, and a 4.5″ display that is optimal for one-handed navigation, this blazing fast phone will brighten up anyone's holiday.
---
Product Name: LeSportsac Kasey
Purchase Information: You can purchase this and thousands of other apparel, accessory and footwear products at www.ShoeBuy.com!
Product Price: $35.95-55.95
A leader in the accessories market, LeSportsac is a quintessential American lifestyle brand of casual, trend-setting nylon bags. The Kasey bag features a zipped main closure, two exterior front pockets with zipped closures and an adjustable/detachable shoulder strap. ShoeBuy offers the Kasey in an array of amazing colors and patterns so your guaranteed to find the perfect one!
---
Product Name: Mohu HDTV Antennas
Purchase Information: Mohu antennas can be purchased in Best Buy, Walmart, or on gomohu.com.
Product Price: The price of antennas ranges depending on your location, but run from $15.99 to $149.99.
Mohu offers a full line of high-quality, easy-to-use and cost effective HDTV antenna products. Since introducing the best-selling paper-thin Leaf Antenna in March 2011, Mohu has helped customers save more than $200 million by reducing or eliminating their monthly cable and satellite bills. Check out their TV-For-Free tool to see which antenna is best for you.
---
This season, purchase the Martha Stewart Pets Santa Belt Bolster Bed for your pet and let him rest on Santa's belly. The bed is designed with extra sleep comfort so it won't shift or clump. Surrounding it is an additional spread of a bolster, which provides snuggle and security to your dog. The plush, bolstered sides are stuffed with premium polyfill. Only at PetSmart.
---
Every meal is something to look forward to with the Top Paw Snowflakes & Glitter Bowl. This creative design on the traditional pet bowl showcases floating snowflakes and glitter, sure to capture your petâs attention! Only at PetSmart.
---
The Luv-A-Pet Plush Candy Chance Dog supersedes the sweetness of any existing stuffed animal or dog toy. The dog is a convenient companion for pets and Pet Parents alike. Detailed with fun cotton candy colors, a plush cape and matching hair bow, she's sure to be a snuggling, sweet sensation or a true entertainer. Only at PetSmart.
---
And here is the part you have been waiting for!
One (1) lucky reader from Nicole's Nickels, She Saved, Deal Seeking Mom, Koupon Karen and Southern Savers will win all of the items featured in this post! This prize is valued at over $1800!

To enter, just complete the form below!
I received the same prize as the winner. My opinions are 100% my own.