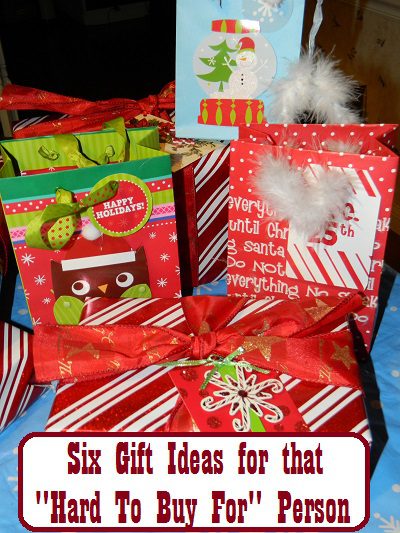 As we put together our holiday shopping lists, I'm sure we can all agree we have at least ONE person on our lists that is hard to buy for.  Whether it's because we don't know them very well (teachers, bus drivers) or they don't tell us what they'd like or perhaps it's because they don't need anything.  But we still like to give people gifts at the holidays, don't we?
Six Gift Ideas For That "Hard To Buy For" Person
I've put together a list of some ideas for those "hard to buy for" people on your shopping lists.   Some of these may be obvious and some may be way out of your budget, but they are ideas you can go on and perhaps change them up a bit to fit your budget and the person you are trying to buy for.
Gift Cards/Gift Certificates
Gift Cards and Gift Certificates are a great go-to gift for just about anyone.  However, you really want to make sure it's for a place they will actually shop at or your money will go to waste.  While Visa gift cards are great, they usually have an activation fee so I always avoid them.  I want all the money I'm spending to go towards the gift.  Grocery store gift cards are perfect for anyone who has a family but that means the gift won't actually go to them, but to their family.  Department store gift cards are perfect for someone to be able to pick out exactly what they want.   Some people feel that gift cards are thoughtless but I don't agree with that.   I love having money to spend on exactly what I want, rather than returning something that I didn't want.
Lottery Tickets
Not everyone likes gambling but if you know someone who does, these are a great gift.  We often buy these for family members and a few times they've won something.  Some states even have weekly drawings that you can purchase a ticket for the entire year for.  I gave my dad one of those for his birthday one year and he loved it.   Stick a scratch card in a birthday card for someone and mail it to them.  It won't even cost you anymore in postage because they don't weigh much!
Sporting Event Tickets
Know someone who is a sports fan but always watches them at home and not actually at the game?  Buy them a couple of tickets for a gifts and then they can go and enjoy the game there.  Buy them two so they can take someone with them or go with you!  This may require some planning ahead since most games you have to put for a specific date, but you could always tell them what you are doing and then work out a date afterwards.  My husband bought our best man some baseball tickets as a thank you for all his help.
A Nights Stay at a Hotel
You could purchase a nights stay at a hotel and give it as a gift!  This doesn't usually have to be something you have to set a date for so the recipient can make the arrangements for when they can go. I would purchase this with a chain of hotels that are all over the US so they could easily turn it into a longer get away if they'd like.  This is perfect for someone who likes to travel to help cut the cost of their trips.  And if you have a credit card that you earn points for towards a hotel, you could cash them in for this gift and perhaps not even pay much for it.
Personalized Gifts
I love giving personalized gifts to people at the holidays, especially grandparents.  What grandma wouldn't love a mug with a picture of their grandkids on it.  Or what Grandpa wouldn't be proud to hang a calendar in his office with pictures of his grandkids?  Or perhaps if they enjoy playing cards, how about a deck of cards with a picture of the family on it.  There are so many things that you can personalize for someone and when there is a picture of someone who they love it, they will probably cherish it even more.   If you are on a budget, you can look for some Shutterfly Coupons to help you save some money on a personalized gift.
Budget Gifts Ideas
If you are on a really tight budget but still want to give someone a thoughtful present head to the dollar store for these ideas that cost $10 or less:
— A mug and fill it with either a coffee sample, some tea bags or some holiday candy.
— Holiday decorations and dress them up pretty in a basket
— Italian food items and make up a basket – A few kinds of pasta, caned tomatoes and/or pasta sauce in a jar, grated cheese and bread sticks are a few ideas you can find at the Dollar Store.– Office supplies/classroom supplies and gift to a teacher.  They can always use extra supplies and $10 at the dollar store goes a long way!
The hard to buy for people on our list are our parents.  They pretty much don't need anything but of course we want to give them something to show them we care since they are such wonderful parents  As I try to figure out what to get them, I remind myself it isn't about giving them something of monetary value, it's about giving them something they will love and perhaps cherish.  Not that it always helps.
I tend to go the route of personalized gifts and I pay attention to what they talk about throughout the year.   When my father in law first retired, he bought a bird feeder and loved watching the birds visit his feeder.  He was telling us one day that he saw a lot of different birds and wondered what they all were.  Knowing that he wasn't going to walk into a book store to buy a book, I suggested to my husband that we buy him one as a gift one year.  He loved it and found many of the birds he saw in his yard, in his book.  Now the book probably cost us less than $15 but to him it more valuable since it was something that really interested him.
What are some gift ideas you have for those hard to buy for people on your holiday list?  Share them below.