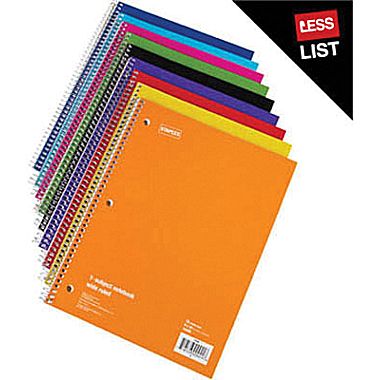 The back to school deals have begun and Staples has quite a bit on sale this week starting at Less thank $5 and down to $.17!  Don't forget to pick up something extra for later in the year if your budget allows.  Look below for the best deal – $.17 notebooks!!!
Under $4.00
Skylander/Justice League composition notebooks ($3.00)
Fashion notebooks and composition books by Studio C, Gartner and Continental ($3.00)
Hello Kitty stapler ($3.74)
Kleenex facial tissues, 3/pack ($3.99)
Book covers, 2/pack ($3.99)
Elmer's school glue sticks, 6+2/pack ($4.00)
$2 and Under
Monster High/Princess Ever After notebooks ($2.00)
Animal/Sports/Floral composition books ($1.50)
Teen Vogue wrapped pencils, 4/pack ($2.00)
SpongeBob/Teenage Mutant Ninja Turtles 1-subject notebook, 70 sheets ($2.00)
BIC Wite-Out correction fluid, 2/pack ($2.00)
Staples Remarx dry-erase markers, chisel tip, 6/pack ($2.00)
$1 and Under
Staples 1-subject notebook ($0.17)
Crayola assorted colored pencils, 12/pack ($0.97)
BIC mechanical pencils, 5/pack ($1.00)
Filler paper, 80 sheets ($1.76)
SpongeBob/Teenage Mutant Ninja Turtles dual hole pencil sharpener ($0.99)
Teen Vogue lipstick eraser ($0.69)
Slider pencil case, assorted colors ($0.75)
These sale prices are good now through 7/19/14.