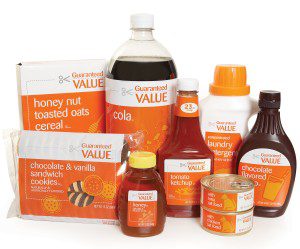 Product Name:  Stop & Shop Guaranteed Value Brand Products
Product Information:  With tightened family budgets, Stop & Shop is re-introducing its Guaranteed Value product line with a new look and new products at affordable prices.
All of the approximately 200 Guaranteed Value products have been quality tested and Stop & Shop will continuously be adding new items to help customers save throughout the store. Customers will find Guaranteed Value products at prices averaging 20 to 25 percent less than what they would pay for similar national brands and more than 60 percent of the line is sold for $2 or less, according to a news release.
"With rising food and gas prices, customers are seeking more savings than ever and our Guaranteed Value products offer customers the ability to save on many of the items they need at prices family budgets demand," said Suzi Robinson, spokesperson for Stop & Shop. "We continue to quality test and improve on all of our Guaranteed Value products to ensure customer satisfaction."
The former Guaranteed Value yellow, blue and red packaging has been replaced with a bright orange and white design that highlights the value offered with each product. Free of expensive packaging, graphics and "frills," the new design makes Guaranteed Value products easy-to-find on the shelf, the news release says.
"Stretching budget dollars is quick and simple…just look for the orange and white package," added Robinson.
Customers will find Guaranteed Value products in virtually every aisle of the store, including dairy, meat and produce departments. Cereal, snack foods, spaghetti sauce, canned vegetables and ice cream are just a few of the items created with today's budget in mind. Household items such as laundry detergent, paper towels, cutlery and trash bags and health and beauty care products such as toothbrushes and body wash are available. Pet owners can get in on the savings as well with Guaranteed Value dog and cat food, treats and litter.
For more information about Stop & Shop's Guaranteed Value products, visit www.stopandshop.com.
My Thoughts:  Grocery shopping can be challenging for some – I totally get that – which is why I have my blog!  To help you find the best deals you can on the items you need.  But sometimes when you have a big family, or your income is temporarily cut – you don't even have enough for what you need.  It's a reality for a lot which is why I love stores that are trying to help those consumers to be able to afford the items that they need (or sometimes want – we have to splurge sometimes!).
That is exactly what Stop & Shop's Guaranteed Value line will do – help you afford what you need!  They are products that do the job that the product is supposed to do, without any bells and whistles.  Sometimes that works just as good.    The picture above represents some of the items that are part of the Guaranteed Value line.   Over 60% of the items are sold for $2 or less!   That's pretty good because sometimes you can't get some of these items for that cheap even with a sale and coupon.  But you won't have the brand name, or the cute characters or the assortment of flavors – jut the basics.
I received some items for our review along with a Stop & Shop gift card to turn those items into meals.  A few things we received were a version of Hamburger Helper which my husband and I actually enjoyed better than the brand name one, a version of Frosted Flakes and my kids had no idea they weren't the brand name, some cling peaches – a peach is a peach right?  But these weren't the 'perfect' peaches and my kids didn't even seem to care!  We also received chocolate and vanilla sandwich cookies which we all agreed weren't as good as the name brand BUT they worked just as good when dunked in milk!!  My favorite item we received, which I have already bought again a few times is the Guaranteed Value Italian Salad dressing which sells for either $1.00 or $1.25 depending on your store.  Can I just tell you that this dressing is delicious!!  It's not overly seasoned – it's just right!  I've used it in my salad, I've added it to macaroni salad and even marinated my chicken in it.  It's so good and so much less than anything else I've bought.
I also received the spaghetti sauce in a can and when I made it, I shared it with a friend.  She had no idea what I used, she assumed it was canned tomatoes because I'm Italian and everyone seems to expect that from me.  She kept complimenting me on my yummy sauce and finally I told her that it was the Guaranteed Value speghetti sauce with the frozen meatballs cooked in it, along with some other spices.  She was floored!!
So these products are good, they don't have anything extra like I said, no fancy packaging, no toys inside the boxes but they are good especially if you are on a budget.  Of course fresh fruits and veggies are the best choice for you but sometimes you can't swing it and it comes down to having to feed your family.

(1) Koupon Karen reader will win an assortment of Guaranteed Value products along with a $25 Stop & Shop gift card!

To enter the giveaway, use the rafflecopter widget below. You can now sign in with Facebook and it will remember you each time you enter another rafflecopter giveaway. Of course Facebook is in no way associated with this giveaway, the people of rafflecopter just want to make it easier for you to enter giveaways now. If you aren't sure how to use the Rafflecopter Widget, check out my friend Nicole's post about using the widget to enter giveaway's. She did an awesome job of explaining it!
As a reminder, comments left on Facebook or Twitter will not be included.
Disclosure: I received the same prize as the winner for review. My opinions are 100% mine.