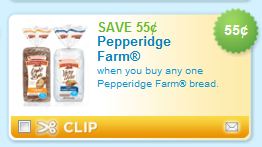 This week at Stop & Shop Pepperidge Farm Bakery items are on sale 33% off.  That would make the bread about $2.47 a loaf.  Use the $.55/1 Pepperidge Farm Bread printable coupon which should double to $1.10 making the bread only $1.37 each!   We like the Cinnamon Raisin bread and this is a GREAT price for it!
Another good deal I found was with Gorton's Seafood and Green Giant Steamers.  If you buy 3 Gortons and 3 Steamers you'll receive $4.00 automatically off your order.  There are great coupons for both of these so here's the deal: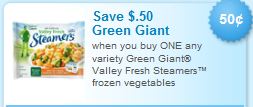 Buy 3 Gortons Fish Fillet Grilled Lemon Butter, On Sale 33% off, about $2.47 each ($7.41)
Use (3) $.40 cpns in 1-24-10 SS insert (should double to $.80 each) (-$2.40)
Buy 3 Green Giant Steamers, On Sale 3/$5.00 ($5.00)
Use (3) $.50 printable coupons (should double to $1.00 –>  You'll need to access 2 computers to print 3) (-$3.00)
Less $4.00 off order for buying all 6 items (-4.00)
Final Cost: $3.01 for all 6 items!!!
If you purchase the Fish Sticks Breaded Crunchy/Extra Crunchy/Fillets, which are $3.54 then you'll spend $5.15 on all 6 products.  Another great deal!