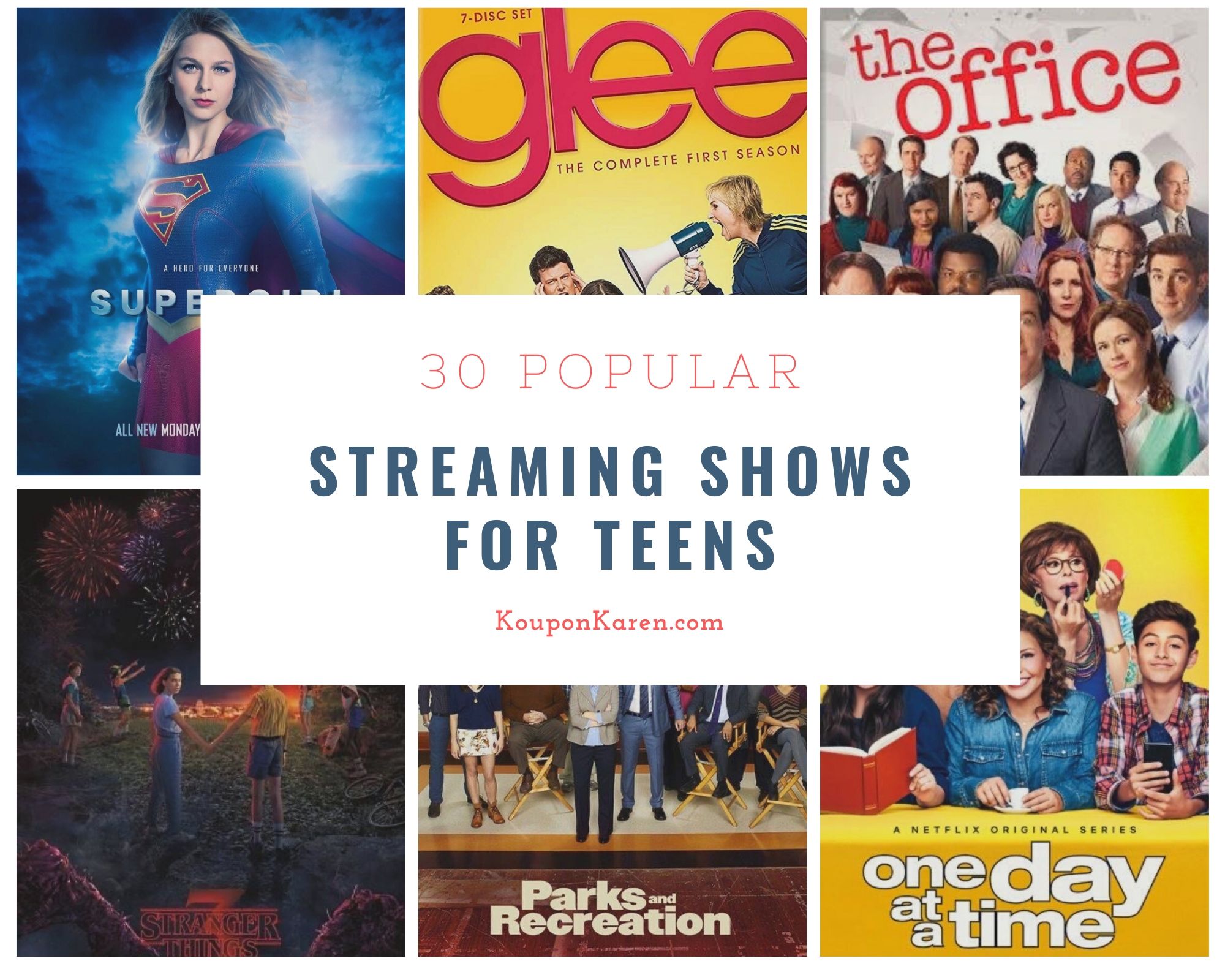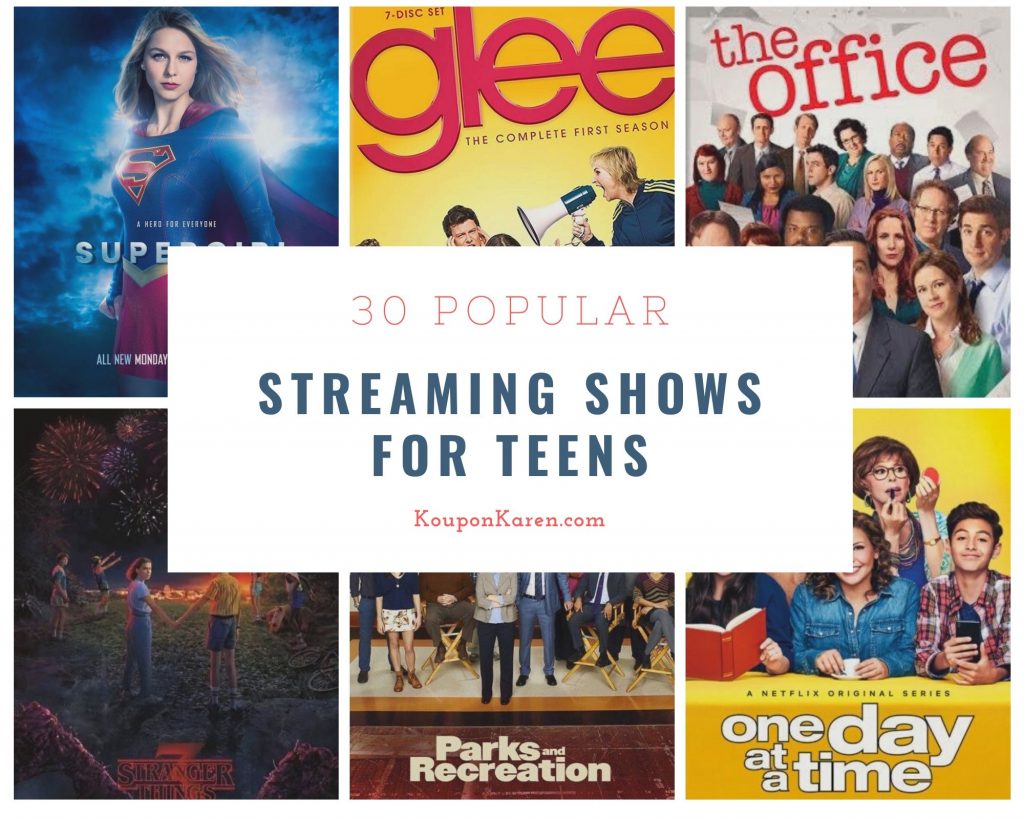 30 Streaming Shows for Teens During Quarantine
We all have a lot of time on our hands right now with all the #StayAtHome orders around the United States.I am grateful for streaming TV because my teens are constantly BORED.  While I don't encourage TV watching all the time, right now I'm making exceptions.
People ask me a lot about Streaming Shows for Teens because even though they are doing school at home, they still have a lot of free time.
If you have a teen and they are looking for something good to stream, see the list below of 30 popular Streaming Shows Teens that my teenager Holly put together.  She even included the ratings since the age group of teens is pretty wide.  These are all on Netflix.  Check back for other streaming services in the weeks to come. It's worth noting that much of the content on Netflix is geographically restricted so you may want to make sure you check for the best vpn for netflix first. A suitable VPN will unblock international content and also protect your personal information.
Popular Streaming Shows for Teens on Netflix To Stream During Quarantine
TV-PG
*Fuller House (tv-pg): This spinoff of the show Full House, grownup DJ, Stephanie, and their neighbor Kimmy help raise DJs 3 boys in the house they grew up in.
*One Day at a Time (tv-pg): This show follows a newly single Latina mom as she raises her teen daughter and tween son with the help of her old school mother.
TV-14
Parks and Recreation (tv-14): This Emmy-nominated comedy is about an employee with a rural Parks and Recreation department. While being full of energy and ideas she is constantly being shot down by the bureaucracy.
The Office U.S. (tv-14): Set in Scranton Pennsylvania, this comedy centers around the lives of Dunder Mifflin Paper Company employees as they are followed day to day by a documentary crew.
Glee (tv-14): Will Shuester, A spanish teacher at William Mckinley High School, takes over the glee club, The New Directions.  This is where the school's talented kids can shine but they are the outcasts and faced with obstacles.  Their cheerleading coach, Sue Sylvester, is trying to shut the club down.
Grey's Anatomy (tv-14): Intern (and eventual resident) Meridith Grey is the main character in this show.   It revolves around her everyday life at the hospital.  There is a lot of drama as the professional and personal lives of fellow employees at the hospital intertwine.
All American (tv-14): This show is about a teen football player from South Los Angeles that is recruited to a Beverly Hills High School team.  It follows them and shows how their lives are changed and cultures start to clash.
Criminal Minds (tv-14): In this take of a police show, we follow a group of extraordinary FBI profilers that need to get into the minds of psychopathic criminals to solve their cases.
The Vampire Diaries (tv-14): This supernatural teen drama follows two vampire brothers, Damon and Stefan.  They are trapped in teen bodies as they fight for the affections of teenager Elena.
*On My Block (tv-14): In the rough inner city of Los Angeles, four longtime friends have their friendships tested as they enter high school.
Supernatural (tv-14): Brothers Dean and Sam travel around the country investigating paranormal activity and fighting with demons, ghosts, and all kinds of monsters.
The 100 (tv-14): Based on the book series of the same name.  A century after Earth was devastated by a nuclear war and people live in space, 100 teens are sent back down to Earth to see if the planet is habitable.
*The Umbrella Academy (tv-14): Estranged siblings with extraordinary powers are reunited over their father's death.  During this time, they uncover shocking family secrets and a looming threat to humanity as we know it.
*Locke and Key (tv-14):  Three siblings move to his ancestral estate after their father is murdered.  While they are there, they discovered keys that unlock magical powers and secrets.  What happens next is interesting!
That 70's Show (tv-14): In the 1970s, a group of friends that hang out in the basement listening to rock and doing everything a typical teen in the '70s would do.
Gossip Girl (tv-14): The anonymous site that is published under the name of Gossip Girl and follows the lives of teen socialites and their scandalous lives.
Riverdale (tv-14): In the town of Riverdale, teens Archie, Veronica, Betty, and Jughead try to solve the town's murders and the other secrets the town holds.
*The Chilling Adventures of Sabrina (tv-14): This darker adaptation of the comics, we follow Sabrina Spellman, a teenage half-witch in the town of Greendale.  There we follow her as she learns to balance her mortal life and witch life.
Supergirl (tv-14): To prevent a disaster, Kara Danvers reveals that she is Superman's cousin.  She then becomes the protector of National City.
*Stranger Things (tv-14): In the town of Hawkins, people are mysteriously disappearing. When tween Will goes missing without a trace, his friends and family investigate.  They find supernatural things that are happening and a suspicious lab nearby.
TV-MA
*The Society (tv-Ma): When everyone disappears from a wealthy town, the teen residents must create a society so they can survive.
*Elite (tv-MA): Three working-class teenagers enroll in an elite private school in Spain. While there, they clash with the wealthy students which then leads to murder.
*13 Reasons Why (tv-MA): As a town mourns the suicide of teen Hannah Baker, her friend Clay receives tapes that explain all the reasons that lead to her death.
American Horror Story (tv-MA): This chilling horror show explores supernatural fears and everyday horrors, people's darker, and evil sides.
*Black Mirror (tv-MA): This sci-fi series explores future technology and innovations that may seem normal and safe, but can be much darker than people thought.
*Love is Blind (tv-MA): This reality dating show/social experiment enlists single men and women that are looking for love. But, there's a twist- they cannot see each other until they're engaged.
*Insatiable (tv-MA): Overweight, bullied teen Patty turns her life around and becomes the hottest and most popular girl in school. But her main focus isn't being popular- it's revenge.
The Witcher (tv-MA): A mutated monster hunter goes on a journey to find his true destiny in a world that people can be proven to be worse than the beasts they fight.
*Outer Banks (tv-MA): On an island with teenagers of all kinds, teen John B enlists his friends in finding the treasure that is linked to his father's disappearance.
Cheer (tv-MA): This docu-series follows the Navarro College cheerleading team as they work towards the national trophy
*Netflix Original
Be sure to bookmark my Quarantine Time page for more ideas during this uncertain time.