If you like to shop at Target, and shop there often then you have to download the Target Cartwheel app onto your Smartphone.   It's one of the easiest apps to use and you'll probably save with it every time you shop because there are tons of savings opportunities each week.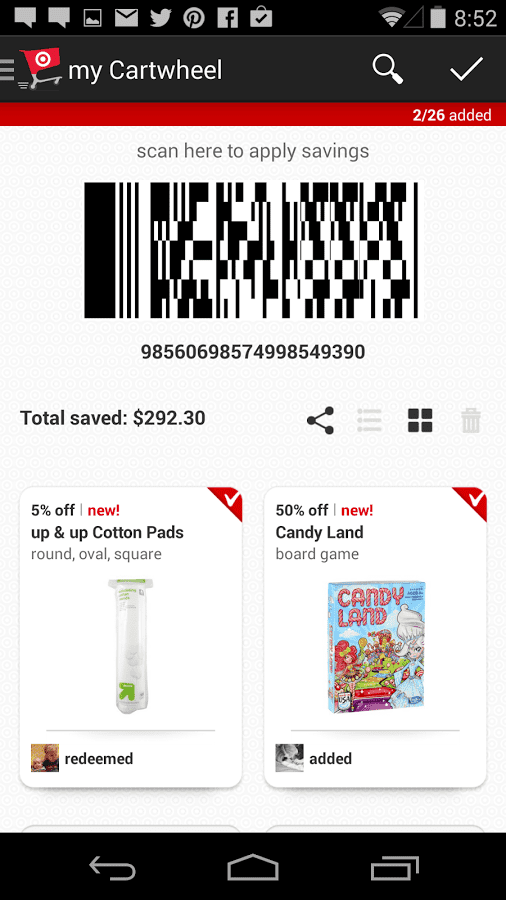 Don't have a Smartphone?  That's OK because you can also access Cartwheel online and then print out a bar code to have the cashier scan.  You won't have the option for adding something last minute while in the store but if you know what you want, you can plan before you shop.
And the great thing about Cartwheel is you can combine it with sales, manufacturer coupons and Target store coupons or Target text coupons to save even more!  They allow 1 Cartwheel + 1 manufacturer coupon + 1 Target coupon per item.   And they always have items on sale that also have Cartwheel offers.  And of course if you pay with your Target Red Card, you'll save an additional 5% off everything you purchase.
First I'm going to walk you through the App and explain each tab.
Search
You can either type a product name or scan it to see if there is an offer attached to it.  This is very handy and I scan everything I put in my cart just in case it qualifies for something and I don't realize it.  Sometimes the offer may scan a large amount of items that you would never thing were in that category.  It only takes seconds to scan the item with your phone.  Just touch the UPS Bar code next to search to scan it.
My Cartwheel
This is where you'll find your active offers, your bar code and your total savings.  You can also read the Terms & Conditions on here as well.  I suggest you read through it (it's not very long) but I'll point out a few things I find very important to know before you use it the first time:
Each Cartwheel offer can be used for up to 4 qualifying items per transaction.  In other words only 4 items per offer.
Limit of 1 Cartwheel bar code per transaction.  So if you are shopping with someone who also has the Cartwheel app, you'll have to separate your order if you both want to use your apps.
Limit of 6 Cartwheel bar code transactions per day.  So if you want to buy more than what you can add to your cartwheel at once, you can do up to 6 transactions in a day.
Browse Offers
You can choose by category if you are looking for something specific or look at all categories and all offers at once.  This can be very time consuming but you'll see everything this way.  If you look at all offers, in the top right hand corner there is a drop down menu that shows you…
What offers are trending (or the most popular)
What offers are the newest (I always go here first!)
What offers are expiring soon
The Discount in order from highest to lowest (the 2nd place I look!)
Activity
See what offers your friends are doing and also your history.  If you connect your Cartwheel account to Facebook it'll show you the offers your friends are doing.  I find offers this way lots of times too.  You'll also see new offers and expiring offers in here as well.
Collections
These are offers that are grouped together for you to easily find by a category.  If you'd rather browse the app by what's on sale that week you can do so in the Collections tab.  Click on "Weekly Ad" and you'll see all the offers tat are also on sale that week for more savings.
The Collections that they have right now are as follows (these could change at anytime):
Weekly Ad
Hot Deals
Top 25 Grocery
Women's Must Haves
Men's Must Haves
Everyday Essentials
Pet Love
Best Sellers
Baby Essentials
Badges
As you use the Cartwheel app, you'll earn "badges".  These badges will unlock things for you like the ability to do more offers during your visit.  When you first sign up for Cartwheel, they only allow you to add a few offers to your cartwheel.  The more you spend the more 'spots' you can unlock.  I just hit the $25 savings mark which opened up a few more spots for me.  Right now I can cash out 18 offers at a time.  The more you save, the more you can do.  This is 18 per visit or transaction.  I believe you start off with about 10 but I don't remember.
Notifications
The app will notify you of offers you have in your cartwheel that are going to expire, when you earn another badge or for other various reason.  All those notifications will be in this tab.
Settings & Privacy
This will allow you to set up how you receive notifications, you can hide your savings total (though not sure why you'd want to do that, I like watching that number grow!), clear your search history, log out and you can also read all the T&C and Privacy Policy and such.
Help Center
This area answers lots of questions.  I recommend you skim through it to see if there is anything you wanted to know but didn't know you should ask!
Feedback
This is a very helpful area that I recently discovered.  you can see conversations that people have about the app and also start one yourself.  And my guess is that they are monitoring this very closely to see how they can improve the app.
So now that you know how to navigate the app let me explain to you how you use it.
Add offers to your cartwheel within the app.
Purchase those items at Target.
Show the cashier your bar code on your phone for her to scan after she rings everything in.
The prices will automatically be adjusted.
It's that simple.  I've been using this for a couple of months right now so here are some tips I think will help.
— Scan everything in the app as you put it in your cart to make sure there isn't a Cartwheel for it.  Sometimes items are grouped together and you may not realize what you are buying is part of that group.  It takes seconds to scan – just click the bar code next to the search button to scan your item. If there is a savings for that item, it'll let you add it to your cartwheel.
— If you see something you may like add it to your cartwheel because some of the hot offers are limited to how many people can add them.  Once they are all added to a cartwheel they will disappear.  This doesn't happen very often but their hot items will go fast.
— You can purchase up to 4 of the same items in a cartwheel category.  So for example if you'll save 10% off milk you can purchase 4 gallons and receive 10% off them.   So if you want to purchase more than 4 of an item in one day,   you'll have to make more than one transaction.
— You can use the cartwheel app in up to 6 transactions a day.
Have you used this app before? If so I'd love to hear your tips and tricks on how it works for you too!  Leave me a comment.