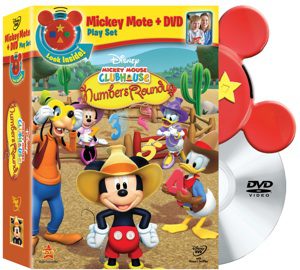 On November 16th Walt Disney Studios Home Entertainment released the Mickey Mote! This one-of-a-kind kid's remote control (shaped like Mickey ears) will provide a whole new viewing experience for children. Kids can control the remote and interact with their favorite Disney characters. Multiple levels of play guarantee hours of fun as well as challenging adventures. For it's debut Mickey Mote will be packaged with Mickey Mouse Clubhouse: Mickey's Number Roundup and Handy Manny: Big Construction Job.
The Mickey Mote works with any Disney Preschool DVD that includes Discovery Mode™, the interactive "Watch & Play" feature on the DVD! All parents have to do is program the remote control – there's an easy and quick set-up guide in each DVD- and select the Discovery Mode feature on the menu screen. Within minutes, kids will be easily responding to questions, throughout the story, about scenes they just watched (such as "What color is Goofy's hat?") by pressing one of four color-coded buttons on the device — a yellow star, green circle, orange triangle or blue square – to click in their responses. Discovery Mode features include two levels of play, which provides more challenging questions as the child grows.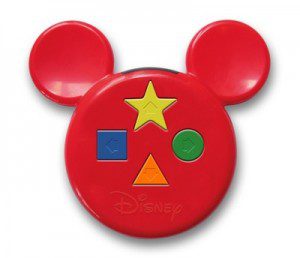 The Mickey Mote is amazing!  First of all it was extremely easy to set up and my 3 year old had no problem at all playing.  She was so excited to be interacting with the show.  She usually verbal interacts but now she could actually participate!  It's great and knowing that she's learning is a big plus in my book!
BUY IT
Product Price: $29.99
Purchase Information: You can purchase it on Amazon
, Toys R Us
, Walmart
, Borders
, Best Buy
,Target
Disclosure: I received the above product free of charge to facilitate my review.  This did not influence my post and as always my words are my own.