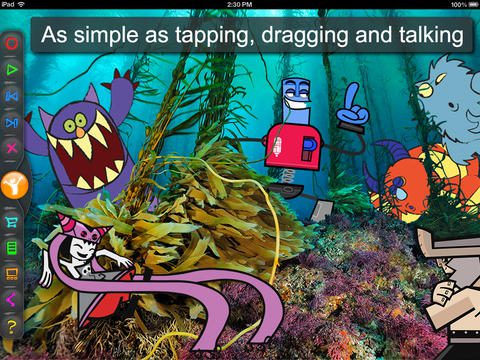 For those of you that like iPad games, the Trigger Happy Toon Hero app is being updated to version 1.3 as of today, November 20th.  Toon Hero is a FREE iPad App for all ages that allows users to create animated stories using world famous characters without any training or artistic ability.  The current version allows you to upload directly to Facebook but the latest update will allow users to share their animated creations directly to YouTube and Tumblr too.
The new version will also include more fun characters and toys pre-installed in addition to the ones already available!
About Trigger Happy:
Established in December 2010, Trigger Happy develops platforms that enable social animation on mobile devices. Toon Hero is their first iPad app to launch and is poised to be the go-to platform for people of all ages to interact with world-famous characters and background images without any artistic ability or training. Available in 14 languages, people can easily bring popular characters to life to by creating their own stories, as well as share thoughts, jokes and more, by simply tapping, dragging, and talking. These creations can be shared virtually anywhere on the Internet. Trigger Happy is headquartered in Auckland, New Zealand.