I happen to love shopping at Goodwill. With the right knowledge, you can get in and out quickly and walk out of there with some pretty great deals!  If you need a couple of tips for your next Goodwill shopping trip. Here are some rules that Goodwill regulars always remember.
Tips for Shopping at Goodwill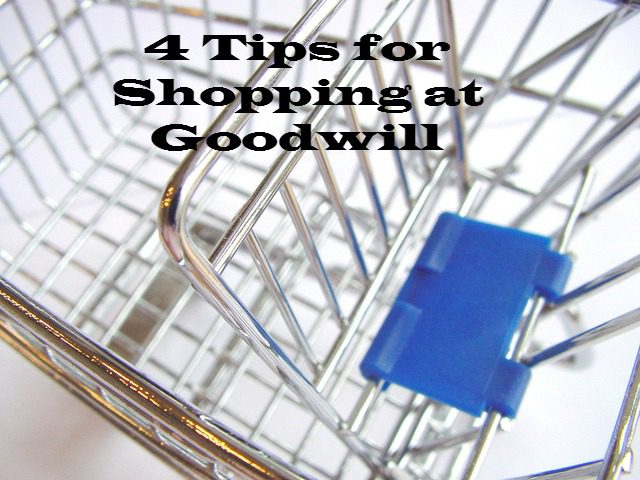 Go at the Right Time.
Shopping at the right time at Goodwill means several things.
First, for the best deals, I have found that Spring and Summer seem to have the best selection. I think that is because people are Spring Cleaning and decluttering and also for those people that have had yard sales and don't want to bring their extra stuff back into their house to be stored.
Additionally, the right time is a weekly tip as well. Goodwill offers a weekly half-price color tag which means that whatever color has been chosen, all of those items are half-off. Sunday mornings are when this color changes so be sure to stop by on Sundays and Mondays for the best selection of half-priced merchandise. The half-priced stuff tends to thin out by mid-week.
There are also special days for seniors and military. If you fall into this category, be sure to check out what days your local Goodwill offers these discounts as well!
Shop Regularly
Goodwill shopping is like any other shopping, sometimes it's hit and miss. The key to finding the best deals and merchandise is to shop regularly. Goodwill selections change from week to week (sometimes day to day) and you just never know what you might find.
This tip is especially true if you are shopping for something in particular, like furniture. Sometimes Goodwill will have an awesome furniture section, sometimes you will find just an end table or two.
Shop New.
In many areas of the country, Goodwill buys out Target overstock goods. Which means you can get some AMAZING deals on brand new items! I once found a Char-Griller Akorn Kamado Kooker Charcoal Barbecue Grill and Smoker all wrapped up in its box for $99!!! This thing typically sells for $350!
They also love selling these brand new items for cheap! Be sure to keep an eye out for little displays that say 4 for $0.99. These are often brand new from Target overstock items that you can get at huge discounts! I have found iPad cases, iPhone cases, scarves, leggings and more in these racks (all brand new).
Choose Your Neighborhood Wisely.
While you may think that every Goodwill is the same, that is just not true. Shopping at Goodwill stores that are close to affluent neighborhoods will often get you better quality goods. This is a great way to save on high end clothes and jeans. I have been known to find Silvers and Miss Me Jeans for less than $15 at the Goodwill store where I shop. That is far below the $120+ you will find them for retail and even less than the $40+ price you will see at high end thrift stores.
The bottom line is this. You can and will find some amazing deals at Goodwill as long as you follow these few simple tips!