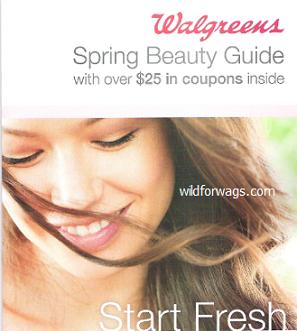 Walgreens has a new coupon booklet filled with store coupons (except for 1).  I'm not sure where you can find these but they are in stores.  If anyone has found one let us know where yours was.  I'll be stopping in there sometime this week so I'll search for it.
Here are the coupons inside.  They are all store coupons so you can stack them with manufacturers coupons for more savings!
$5/1 ActiFade Precision Age-Defying Complex 2oz, & three concealers, 0.2 oz ea
$2/1 Neutrogena Healthy Skin Liquid Makeup or Moisturizer
$1/1 any ROC Product — this one appears to be a manufacturer coupon
$1/1 Revlon Cosmetics
$2/1 Almay Cosmetics
$1/1 Maybelline Color Seansational Pearl Lip Color, FitMe Foundation or Powder, Lash Stiletto Mascara or Eye Studio Trios
$2/1 L'Oreal True Match Roller
$2/1 L'Oreal Studio Secrets Magic Perfecting Base
$2/1 L'Oreal Infalliable Le Rouge Lipstick
$2/1 L'Oreal Voluminous Million Lashes Mascara
$2/1 L'Oreal Revitalift Moisturizers
$5/1 Lumene Moisturizer or Serum
$1/1 Yes To Cucumbers Facial Towelettes, 30 pack
$1/1 VeripurHand Sanitizer Moisturizer, 3 oz.
$1/1 Dickinson's Original Witch Hazel Pore Perfecting Toner, 16 oz.
Coupons expire 4/30/11.
thanks Wild for Wags!