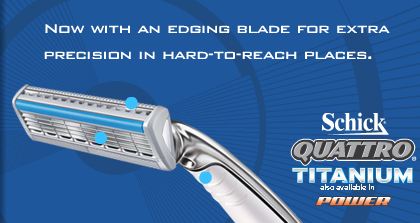 This week Walgreens has the Schick Quattro Titanium on sale for $9.99 and you get back $3.00 in Register Rewards.  If you were lucky enough to receive the mail in rebate in this past Sunday's SS insert, then you can get it for FREE + $3.00 overage after the Register Reward!!
You must purchase the Razor by 3/7/10 and send in the UPC and your receipt to get the rebate, but if you buy it this week at Walgreen's you'll make some money on it too!  I love when that happens!
Thanks Coupon Cravings!