Product Name: Weight Watchers® by Conair™ Glass Body Analysis Scale Model WW52
Product Information: "As you know, when you're embarking on a weight loss program, you and your scale become very closely acquainted!  With that in mind, Conair is introducing its newest scale offerings!  Licensed by Weight Watchers, these scales not only provide great functionality, but their sleek, beautiful designs make them nice to look down at every day (even on those days when the scale is more "frenemy" than friend!)
Weight is not the only measurement of success for a weight loss/exercise program…there are many other factors, and how great would it be to have a bathroom scale that measures many of them in one step? The Weight Watchers by Conair Glass Body Analysis Scale not only measures weight but also measures body fat, body water, bone mass, and BMI (body mass index). And because it has a four-user memory, it can be used by the whole family!
The scale has a sleek, streamlined design along with a blue back light on the 1.9" LCD screen with 2 lines. It features impact-resistant tempered safety glass platform with stainless steel and includes bone mass analysis. The 12.2" x 12.8" scale has a 400 lb. capacity and includes long-life batteries.
Purchase Information: The Weight Watchers by Conair Glass Body Analysis Scale Model WW52 is available at Target, as well as at www.conair-store.com for an average retail price of $49.99.
My Thoughts: As some of you may know, I've been following Weight Watchers since early this year.  It's been going well for me, I'm happy to report.  But I will admit that I do get on the scale just about everyday.  It's a habit and I know they say don't do it but I need to see that I'm on track everyday.  It works for me.  So I was happy when I received the Weight Watchers by Conair Glass Body Analysis Scale for my review.
First I love  how it has a four user memory.  So it keeps everything in it's memory for me so I don't have to remember it all.  That's very handy since it gives so much information!  I haven't been using it too long, but it says it has a long battery life, which will be a plus if it really happens!  Especially considering my kids get on it every day, a few times a day.  Then think it's neat to see what their number is, different times of the day.  My youngest keeps telling me to get on it so she can see what my number is but I tell her no way because she tells strangers how old I am, I don't want her telling them how much I weigh too!
It's a really nice looking scale that I don't mind having out in my bathroom when other people use it.  It's like a decoration, as silly as that may sound.  But it's a pretty cool tool to measure so  much more that wight.  I haven't had it long but I'm excited to see the numbers go down, not only for my weight but for body fat and BMI too!
WIN IT
(1) LUCKY Koupon Karen reader will win One (1) Weight Watchers® by Conair™ Digital Painted Glass Scale Model WW24 pictured below.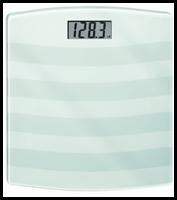 If you just want a good old simple weight measurement, but with extraordinary style, this best-selling Weight Watchers scale is a great choice! The smooth scale has an easy-to-read 1.3" digital display with a "tap-on" scale activator.  There is a high-strength tempered safety glass with decorative silk screen available in white, red, or blue. The scale is 11.8" X 12.6" and has a 400 lb. capacity,  runs on long-life AAA lithium batteries that are included, has a 10-year warranty, and is available nationwide at stores such as Target, Sears, Meijer, Fry's, as well as at www.conair-store.com for an average retail price of $29.99.
Entry is simple! You just need to answer the question below by leaving a comment on this site! You can even gain up to 4 bonus entries for doing each additional item listed (just make sure that you leave one entry for each one — up to a total of 5 comments). As a reminder, comments left on Facebook, Twitter or other posts will not be included.
REQUIRED ENTRY
Leave a comment.  How often do you get on the scale??
BONUS ENTRIES:
1. Follow @KouponKaren on twitter and tweet the following "I entered to #win a Conair Weight Watchers Scale @KouponKaren and you can too! https://wp.me/pMKCI-95N"
2. "Like" Koupon Karen on Facebook
3. Comment on any other post on my blog (giveaway posts don't count) then come back here and let me know what post you commented on.
4.  Sign up to receive Koupon Karen daily emails or add me to your favorite reader.
Details: This giveaway is open to US Residents and will remain open until September 7th at 11:59 p.m. EST . Any comments left after this time will not be counted. The winner will be selected randomly and will be notified via email and will have 48 hours to claim their prize.
Disclosure: I received the same prize as the winner for review. My opinions are 100% mine.