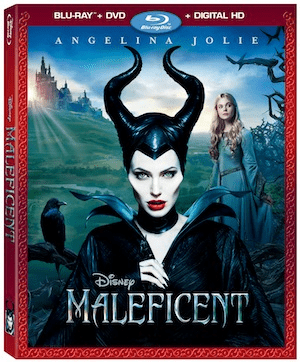 Well, Well!  Maleficent Arrives on Blu-ray 11/4/14
Yeah! I'm so exicted for this!  Maleficent arrives on Blu-ray 11/14/14.  And it can't come fast enough.  I loved this movie.  Like seriously LOVED it.  I took my daughters and they were just in aw of it.  Not only did Angelina Jolie nail the part of Maleficent, but the message of love in this movie was just awesome.   Once again Disney did a great job in making the woman the hero and not the man!!!  Okay, that's enough because I don't want to ruin it for those of you that didn't see this but if you didn't, you have to!
Academy Award®-Winner Angelina Jolie transforms into one of Disney's greatest villains in MALEFICENT, coming to Disney Blu-ray™ Combo Pack, Digital HD, Disney Movies Anywhere, DVD and On-Demand November 4th! This wickedly fun twist on the classic "Sleeping Beauty" comes with spellbinding bonus features including: deleted scenes, "Building An Epic Battle," the meticulous detail that went into creating Maleficent's elaborate head wraps in "Classic Couture" and more!