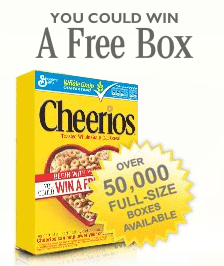 Want some FREE Cheerios??  Well you can enter to win 1 of over 50,000 FREE boxes of Cheerios HERE.  And when you sign up you will receive a $1.00 printable coupon for Cheerios each week for 4 weeks.  You should be able to print each one 2 times so that's a total of (8) $1.00 Cheerios Coupons!!!
I am signing up for this because we go through a LOT of Cheerios.  It's the snack of choice in our house.
Thanks Money Saving Mom!