A great way to save money is to purchase HE appliances, like a washing machine.
What's the difference between an HE and non HE washing machine?
Answer: HE washers use 20% to 66% less water than a traditional agitator washer. Because there's less water to heat, HE washers also use 50% to 80% less energy than traditional washers. HE washers use a "tumbler" system versus a central agitator in most traditional washers, which gently tumble laundry back and forth through a shallow pool of water.
The new High Efficiency (HE) Washers are GREAT but you have to use special detergent for them.  This can cause a problem since they are generally more expensive for us frugal people.  However, I look at it this way,  in the end your saving so much more by using HE appliances that even if you spend more for the detergent,  you are really saving, somewhere.  My suggestion is to keep an eye out for coupons and for a sale and stock up.
That said, I was contacted by a Wisk Laundry HE Representative to see if I'd like to offer my readers a fun giveaway and I wasn't about to say no!  I knew that 1 reader would be very happy to receive a FREE bottle of Wisk HE Detergent.
LaundryHE.com, which is powered by Wisk, is an online resource for those looking to learn more about High Efficiency (H∙E) detergents and washing machines. Since there is still a lot of confusion around what H∙E is/means, this site aims to provide clarity, community interaction and helpful tips from experts on how to improve the laundry experience.
If you have a HE washing machine or you are looking to buy one, LaundryHE.com can probably answer your questions.  Check out the Washing Wisdom Section for more.
Now onto the FUN part!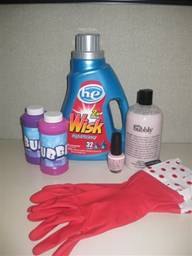 Giveaway: (1) One Frugal RI Mama reader has a chance to win a bubble-themed giveaway pack, from Wisk's High Efficiency know-how site LaundryHE.com, which features a bottle of Wisk HE detergent, Philosophy Bubbly body wash, OPI nail polish in Bubble Bath color, cute polka dot rubber gloves and fun old fashioned bubbles to blow!
How To Enter: Just fill out the entry form below and tell me you'd like to win. That's it!
Extra Entry: Once you do the above mandatory entry you can do any or all of the following extra entries. Just fill out a separate entry for each one telling me you did it or that you already do.
Follow me on Twitter.
Follow  Laundry HE on Twitter.
Post About this Giveaway and leave me the link.
Tweet about this giveaway and be sure to add @frugalrimama and @laundryhe
Sign up to receive my Emails or Add me to your favorite RSS reader.
Details: Open to US residents only. This giveaway will end January 28th at 11:59 PM EST and the winner will be announced the next day using random.org and will have 48 hours to claim their prize or I will pick another winner.
My Giveaway entry method is different now. To avoid problems with too many comments on the posts, I will now be using an entry form for all giveaways. To leave an entry, just fill out the form below. You must fill it out separately for each entry. Once you enter the first time, the entry box will disappear. Click here to enter again each time after. Comments are closed on this thread but if you have any questions or problems please email me at karen@frugalrimama.com. Good Luck!
(Wisk provided me with a bottle of HE Detergent in consideration of this post)