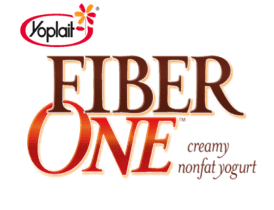 Are you a member of Pssst? Pssst is by General Mills and when you join you'll receive FREE products to try out along with coupons to share with your friends and family.
Last week I received a coupon for a FREE pack of Yoplait Fiber One Yogurt which has 50 calories and 5 grams of fiber.   Most people don't even get the 25 grams of fiber that is recommended by the Institute of Medicine.  This will provide 20% of your fiber intake each day.
Yoplait Fiber One Yogurt comes in 4 yummy flavors – Strawberry, Vanilla, Peach, Key Lime Pie.  Vanilla is a favorite in our house so I grabbed that one this time and we loved it.  Next time I want to try the Key Lime Pie!
You can print a coupon for Yoplait Fiber One Yogurt here and try some for yourself.  Let me know what you think about it.  It's definitely a yummy snack that you don't have to feel guilty about at only 50 calories & 0 grams of fat per serving!
Fiber One yogurt is available nationwide in four-packs of 4-oz. cups at a suggested retail price of $2.79. Visit www.FiberOneYogurt.com for more information about Fiber One yogurt and other Fiber One products. Visit www.Hungry-Girl.com for snacking tips and to sign up for Hungry Girl's daily newsletter.