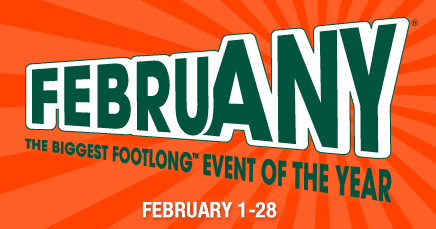 Did you know that it's FebruANY at SUBWAY® Restaurants! The biggest FOOTLONG™ event of the year is back. Several favorite varieties are just $5 all month and fans can choose from new $6 FOOTLONG™ specials, too. For breakfast, lunch or dinner, this is an event that satisfies every member of the family – at a great price.
What is your favorite SUBWAY® sandwich?  I have a few.  I love the B.L.T., the Buffalo Chicken, the Spicy Italian and the Tuna.  My oldest will only eat the Tuna and always wants to go to Subway for a Tuna sandwich!  Next week is school vacation here so I'll bring the kids to get one and since all the ones we love are on the $5 footlong or $6 footlong list, we'll likely get the footlong and have extras!  Or share, we'll see.
This sale ends 1/28/13 and you can see a list of all subs on the website here.
And of course we have a FUN giveaway in honor of this FebruANY event at Subway this month!!

(1) Koupon Karen reader will win $25 Subway Gift Card!

To enter the giveaway, use the Giveaway Tools widget below. This is a new widget I'm trying and I hope you like it. Please let me know if you have any questions about it or problems with it! Of course Facebook is in no way associated with this giveaway!
As a reminder, comments left on Facebook or Twitter will not be included. You must follow the instructions on the widget about the proper way to enter.
Disclosure: I received a Free product for review. My opinions are 100% mine.