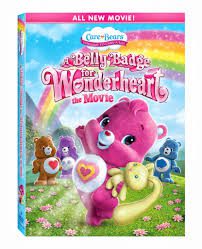 This post is Sponsored by Lionsgate Home Entertainment but my opinions are 100% my own!
I grew up with the Care Bears and I love that my kids are too.   We have several of the little bears scattered though out our house as my kids love stuffed animals and hate to part with them.   But the Care Bears are just so colorful and each of them has a special message that teaches children as well, so they are definitely my favorite.
I love anything that promotes learning through play and I feel that's the message of the Care Bears as well.  All of their books and movies are teaching my kids something, and the kids have no idea.   They are just enjoying the entertainment of it!
If you are a parent of spend time with children, you know that they learn from example and when they watch shows that set good examples, its much better than the alternative.  I monitor very carefully what my girls watch and if I see anything 'bad' coming out of it, then that's the end of that.   They will pick up bad habits enough in the world, I don't want them coming from TV shows, movies and books.
On that note,  The Care Bears are back again with another great movie on DVD, Digital Download and Video on Demand this month. Care Bears: A Belly Badge for Wonderheart – The Movie hits stores today, August 6, 2013.
In the land of caring and sharing, one little bear's desire to ignite her Belly Badge creates a storm of adventure in this magical movie about the power of responsibility! With 7.2 million unique viewers on The Hub TV Network (1Q 2013), the popularity of the iconic bears continues to grow. Come along to Care-a-Lot and join your favorite friends on a magical movie adventure! The Care Bears: A Belly Badge for Wonderheart – The Movie DVD includes two bonus music videos as well.
You can find it in stores for about $14.98.

(1) Koupon Karen reader will win Care Bears: A Belly Badge for Wonderheart DVD.

To enter the giveaway, use the Giveaway Tools widget below. This is a new widget I'm trying and I hope you like it. Please let me know if you have any questions about it or problems with it! Of course Facebook is in no way associated with this giveaway!
As a reminder, comments left on Facebook or Twitter will not be included. You must follow the instructions on the widget about the proper way to enter.
Disclosure: I received a Free product for review. My opinions are 100% mine.