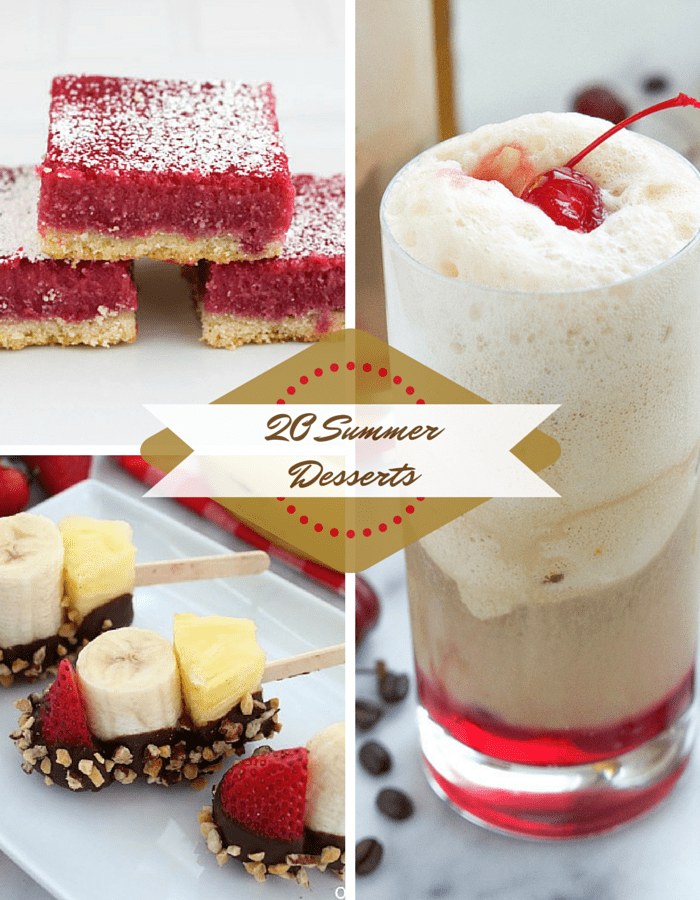 I don't know very many people who don't absolutely swoon over great desserts.  Summer is all about bright colors cold drinks, and ice cream.  It's only fitting that the perfect summer desserts fit in to one of those famous summer categories. Check below for 20 dessert recipes that scream, "It's summer!"
20 Dessert Recipes Perfect for Summer
Fruit Pizza | Mrs. Happy Homemaker – This fruit pizza is absolutely adorable and not only taste great but is healthy for you!
Very Berry Cheesecake Salad | The Recipe Critic – If you don't like the crust on a cheesecake, try this dip with whatever type of cracker you would like!
No-Bake Summer Berry Cheesecake | The Chew – Baking in the summer can sometimes make the kitchen an unpleasant place.  Try this recipe that involves no oven!
Cheesecake Stuffed Strawberries | DIY Crafts Mom – Want a healthier version of cheesecake for your summer get together?  Try these little delights!
Banana Split Bites | Our Family of Seven – I literally can't believe I didn't think of this first.  What a cute and brilliant way to make banana splits to where they don't drip and make a mess.
Breakfast Popsicles | Country Living – These popsicles might be perfect for breakfast but they're also perfect for any other time during the day as well.
Cherry Vanilla and Salted Caramel Affogatos | The Housewife in Training Files – I literally had to close my mouth so I wouldn't drool at work over this tasty treat.  The perfect summer float!
Homemade Slushies with Ice Cream | Pocket Change Gourmet – The classic slushie with a twist! Make it with ice cream instead of plain ice for a creamier taste.
Fruit Salsa with Cinnamon Crisps | Spend with Pennies – Strawberry and cinnamon meld together like a dream in this dessert combination.
Strawberry Shortcake Kabobs | Sugar Apron – Want a quick and easy snack for people to grab at parties wile putting a dessert twist on it?  This is your recipe!
Raspberry Lemonade Bars | Handle the Heat – I've never had bars like this before and they had the perfect amount of sweet and tangy.
Strawberry Chocolate Chip Cake | Julia's Album – Chocolate goes with just about anything to make it better. This cake recipe is no different.
Watermelon Rice Krispies | Inspired by Familia – Check out these watermelon replica treats that are sure to be the talk of the party. Everyone will wonder how you did it!
Key Lime Fudge | Recipe Girl – A perfect cooling yet sweet treat is this twist on fudge! Perfect to put in the fridge and save for a later time.
Raspberry Sorbet | Crème de la Crumb – Here's a raspberry frozen treat that's sure to beat the heat.
Pistachio Dreamboat Dessert | High Heels and Grills – Pistachios are my husbands favorite and I'm sure he would love seeing this sitting up on the counter for our next summer get together.  What about you?
Cherry Pie Pops | Cooking with Sugar – These adorable little pie pops are absolutely perfect for summer parties when the heat can cause you to lose your appetite.
Individual Frozen Key Lime Pies | This Silly Girl's Life – Not having very many people over? Make these little individual pies so you don't waste time and money on food that will go to waste.
Pink Lemonade Cupcakes | A Spicy Perspective – These are cute and brightly colored for the perfect addition to a lemonade stand!
Banana Split Pie | Raining Hot Coupons – Can't get enough of that banana split taste? Try this great pie recipe and see how it adds up!
How many of these Dessert Recipes will you make for your next get together?