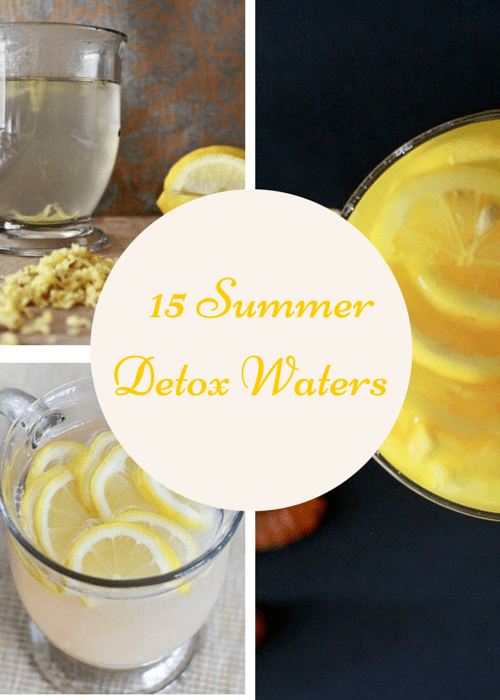 Summer is almost here and that means swimsuit season.  On top of that, you will be wearing clothing that most likely will be showing more skin.  Don't be embarrassed this summer with any unwanted pounds or icky feelings from those winter months.  Try one of these detox water recipes to boost in your getting healthy goals!
15 Detox Waters to Kick off Summer Right
Apple Cinnamon Flat Tummy Detox Water | Real Beauty Spot – Looking for a tasty but helpful weight loss water to grace your side through the summer months?  Try this spicy detox water to lose extra pounds while on the go!
Blackberry Sage Flavored Water | Skinny Mom – A refreshing drink is essential for surviving the heat. Sip on this mixture to cool you off!
Ginger Turmeric Detox Tea Recipe | Linda Wagner – Suffering from a pesky summer cold? Detox your body with this iced tea recipe.
Toxin-Flushing Detox Drink | Health Shortcut – Afraid of getting sick and missing out on those fun summer plans?  Mix up some of this toxin ridding brew!
Fat Burning Detox Water | DIY & Crafts – Summer is the more active time of you.  Boost your weight loss efforts with this tasty drink.
Lemon Cucumber-Mint Fat Flush Detox | Healthy Smoothie Recipes – Don't like the taste of cinnamon but would still like a detox water that flushes away extra pounds? Try this minty concoction!
Lemon Detox Cleanse | buzzle – Lemon has many uses and is great for cleansing the body.  Add a little of this recipe to your daily routine for a health boost.
Belly Slimming Detox Water | DIY Ready – Don't like the gut you've picked up from those lazy winter months? Try this luscious water mixture to help out!
Fat Flush Detox Drink | Budget Savvy Diva – Did you know a lot of fruit or vegetable mixtures help flush your body of unwanted fat?  Check out yet another great recipe to add to your water that helps wash away those pounds.
Strawberry, Lime, Cucumber, and Mint Water | Back to Her Roots – Strawberries are not only good for detoxing your body, they're a natural teeth whitener too!
Watermelon Water | Top Inspired – Watermelon by itself is packed with lots of water, it's no wonder it fits into this water detox recipe so well!
Day Spa Mango Ginger Water | Lose Weight by Eating – Looking for a tropical twist to your detox drink? Try this relaxing spa mixture.
Lemon Coconut Detox Water | Sunny Fit Life – If you like Pina Coladas, this is the detox water recipe for you!
Cucumber Crush | Reality of You – Cucumber is a zero calorie vegetable which means your body burns more calories digesting it than you gain by eating it! Try this soothing cucumber water!
Strawberry Lime Cinnamon Fat Flush | This is How we Mommy – There's nothing like sweet, spicy, and tangy all in one drink.  This recipe wraps it up and makes it taste like gold.
Which detox water recipes will you try first?