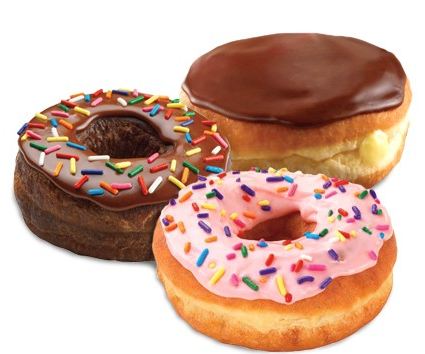 I love Dunkin Donuts.  I probably have at least 1 cup of their coffee a day.  I really love Dunkin Donuts.  I used to love their donuts but the points are pretty high on Weight Watchers so its now just an occasional treat for me.  And I'm ok with that.  I've had plenty of them in the past and I can have more in the future but right now I don't need them.  So I talked with Dunkin Donuts and suggested that since I'm not eating their donuts much anymore they should give them away on my birthday so everyone else can eat what I  normally would.  Guess what?  They loved the idea and decided that June 3rd should be National Donut Day in honor of my birthday. Wasn't that nice of them.
OK, that's really not true but it sounded good, didn't it? LOL  I have no idea why they picked June 3rd but I just tell myself it's because of me BUT anyways……….. Today ONLY when you purchase any beverage, you'll get a FREE DONUT at Dunkin Donuts.
Enjoy!! (OK, I broke down and split one with my daughter, but I counted the points.. after all it is my birthday!)
PS: Krispy Creme is also giving away FREE Donuts Today!!!