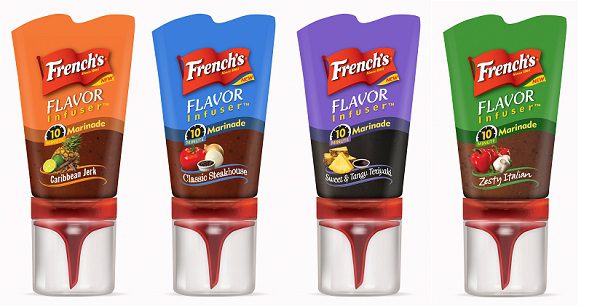 This post is Sponsored by French's but my opinions are 100% my own!
I'm trying to grill more than just hamburgers and hot dogs.  Now that our grill is right outside the kitchen door, it's easier to get to.  It would be so much better than using my oven or stove for that matter.  But because my family is so picky, it's hard to figure out what to grill.   But if I make it taste really, really good then they will love it no matter what it is.
Just in time for grilling season, FRENCH'S®, America's favorite mustard, is launching its NEW French's Flavor Infuser™ marinades. The unique marinades are a fast, no mess alternative that are ready-to-use and deliver great tasting flavor in just 10 minutes! By injecting the marinade deep into the protein, the flavor is quickly delivered and evenly distributed to all layers of the protein.
They come in four mouth-watering flavors:
Sweet & Tangy Teriyaki
Classic Steakhouse
Zesty Italian
Caribbean Jerk
These are super easy to use.  As you can see from the image above, the tip of the bottle is ready to inject the marinade into your food.  We picked up some nice thick steaks and used the Classic Steakhouse instead of our dry rubs we normally used.   We injected the flavoring in two areas of the steak and then let it sit for the 10 minutes as suggested on the bottle.   It may of actually been a little longer than that.   Then my husband tossed them on the grill and cooked them as he normally does.  They were delicious!
You can also apply these to the outside of chicken.  This is a great way to use it with boneless chicken and I'm told it keeps it most as well!  I haven't tried it yet but I will as we love chicken!
The only thing about these bottles is they are a one time use since you are injecting them into raw meat.  So if you don't think you'll use it all in one meal, I'd suggest you grab some extra of the protein you are cooking, inject the marinade into it and then freeze what you don't cook then.   As it thaws it'll marinate!  I hate to waste anything so I think this is a good way to use it all.  Each tube will work well with 3-4 pounds of protein.

(2) Koupon Karen reader's will each win a FRENCH'S® BBQ mitt and some Flavor Infusers!

To enter the giveaway, use the Giveaway Tools widget below. This is a new widget I'm trying and I hope you like it. Please let me know if you have any questions about it or problems with it! Of course Facebook is in no way associated with this giveaway!
As a reminder, comments left on Facebook or Twitter will not be included. You must follow the instructions on the widget about the proper way to enter.
Disclosure: I received a Free product for review. My opinions are 100% mine.