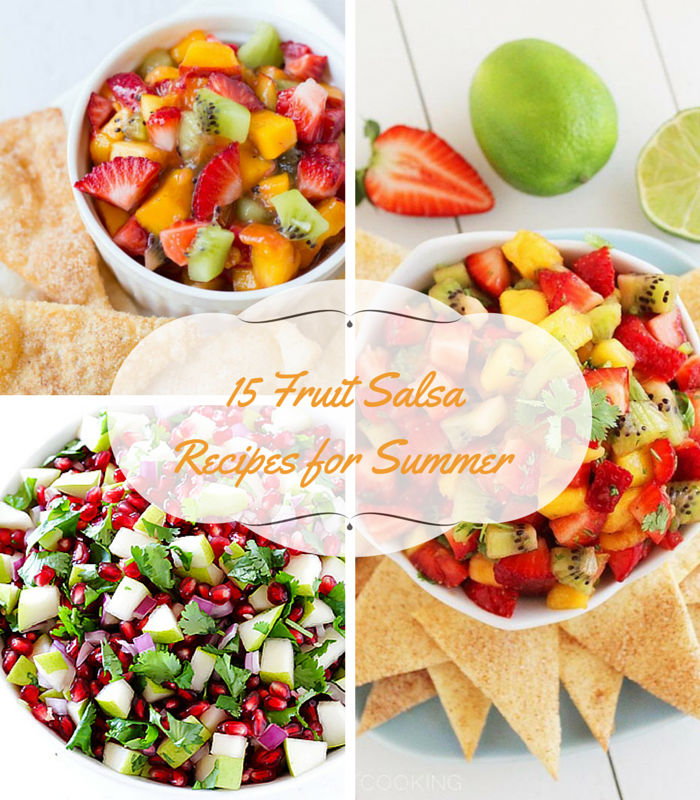 I love all the colors that come along with summer. All these colors are not only a part of clothes and accessories but food and drinks as well! One of my favorite items to serve at a summer get together is fruit salsa! Fruit always has bright and vibrant colors and when you mix those colors together, you get a dish perfect for summer!  Check below for some of our favorite fruit salsa recipes!
15 Fruit Salsa Recipes
Cherry Salsa| Instructables – Cherries are my favorite fruit and it was a little strange eating it in a salsa form at first but I warmed up to it and plan on making it a lot over the summer.
Watermelon Salsa | Moms Need to Know – This recipe was definitely best with the watermelon in chunks. I ate it by itself with no chips…it was that good.
Fresh Cranberry Salsa | Craftaholics Anonymous – Cranberries have a great light taste that usually tend to mix into recipes well.  This recipe was no different! Well-balanced mixture.
Fresh Peach Salsa | The Diary of Dave's Wife – There is nothing better than the taste of a fresh peach in all its juicy glory.  This salsa has such a fresh juicy taste, it's great on ice cream!
5-Ingredient Pear Pomegranate Salsa | Gimme Some Oven – This salsa has a little bit of a crunch to it making for a different texture while being super easy to make!
Mango Pineapple Salsa | The Frugal Girls – This is a great salsa for a tropical themed party.  It makes me feel like I'm on my own island cooking out of a tree house.  Strange but true.
Fruit Salsa with Cinnamon Crisps | Spend with Pennies – This is a healthy yet very good salsa.  The cinnamon chips are great for dunking and the strawberries mix with the cinnamon for a pie-like tasting treat.
Pineapple Salsa | Skinny Mom – This is a slightly sour and sweet mixture that would go great with cake or muffins.
Strawberry Salsa | Sole for the Soul – This salsa would be perfect for strawberry shortcake or on the top of angel food cake.
Strawberry Mango Salsa | Comfort Cooking – I don't usually eat mango very often but I did enjoy this strawberry and mango salsa.  The other added ingredients made it come together in a delightful mixture!
Strawberry Jalapeno Salsa | Domesticate Me – Here's a spicy and sweet salsa that would be great for tacos! More sweet than spicy, depending on how many jalapenos you add.
Cinco De Mayo Berry Salsa | Home is Where the Boat Is – This is like a blueberry pie in salsa form.  A healthier version of pie so if you're dieting and want pie, try this instead!
Sangria Fruit Salsa | Spool & Spoon – This recipe was a perfect rendition of the sangria drink that is more commonly known.  Very sweet and delightful!
End of Summer Salsa | Oh, Sweet Basil – Of course, this is perfect for ending summer but it's also great for the begninning of summer and the middle of summer!
Tropical Mango Papaya Fruit Salsa | Tastes Lovely – This is definitely a great salsa to make for any get together.  It's healthy and contains a lot of great fruit options!
Which of these Fruit Salsa Recipes will you make at your next summer event?