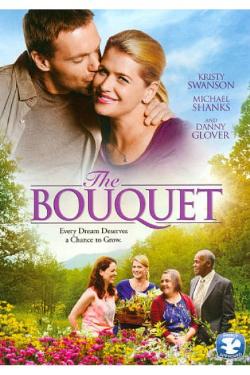 I love sappy movies!  Sometimes on Sunday afternoons I surf the cable channels looking for a sappy movie.  I hadn't seen The Bouquet before so I was excited to pop it into the DVD player when I had some "me time" to watch it.  That doesn't happen to often but when I tell my husband I have to watch it for the blog, then he knows I have to make time for it.  LOL Works all the time!
Such a good movie, and I'm warning you it's a tear jerker too.   Haven't heard of it?  Keep reading!
About The Bouquet


Two estranged sisters torn apart by their differences suddenly find themselves working together towards a common goal in the heartwarming drama, The Bouquet. For years, overachiever Terri (Kristy Swanson) and her idealistic sister, Mandy (Alberta Mayne), have kept their distance from each other, as well as from their parents' struggling florist business. But when a tragic turn of events brings both women home, they discover just how much they need one another in order to continue their family legacy. Filled with romance, humor and hope, it's an endearing story about making time for the ones you love.
You can pick this up where movies are sold for only $14.93!

(1) Koupon Karen reader will win a copy of The Bouquet on DVD!

To enter the giveaway, use the Giveaway Tools widget below. This is a new widget I'm trying and I hope you like it. Please let me know if you have any questions about it or problems with it! Of course Facebook is in no way associated with this giveaway!
As a reminder, comments left on Facebook or Twitter will not be included. You must follow the instructions on the widget about the proper way to enter.
Disclosure: I received a Free product for review. My opinions are 100% mine.