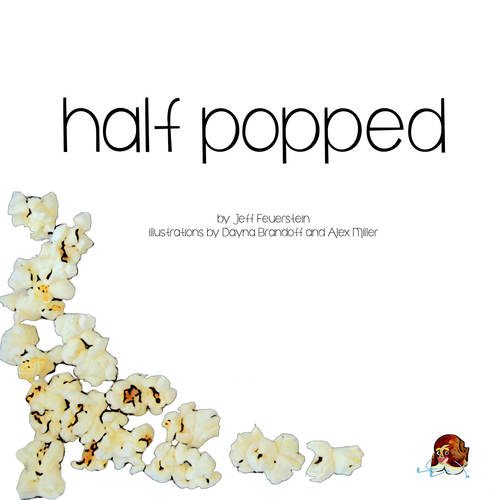 This post is Sponsored by Half Popped but my opinions are 100% my own!
My family loves popcorn.  We can't go to the movies without having some, no matter what it costs.  And when they kids pop a new movie into the Blu-ray, we have to pop some popcorn.  My oldest eats every single piece in the bowl, even the half popped ones!  If I let her, she'd probably even eat the ones that didn't pop!  She just loves it all!
Have you heard of the story of Kenny the Kernel and the irresistible new children's book, Half Popped?  Half Popped is written by Jeff Feuerstein and illustrated by Dayna Brandoff and Alex Miller.  Half Popped is the heart-warming and whimsical story of Kenny the Kernel, a discouraged but friendly popcorn kernel who believes he never reached his full potential.  As Kenny journeys through the kitchen, he helps cheer up other down-on-their-luck snacks by pointing out the bright side to their situations, all the while harboring a half-empty view of himself.
With a silly, story-telling rhyme evocative of Shel Silverstein poetry and unique artwork that combines photography and illustration, the charming tale serves as a lesson in self-confidence and reminds young readers that a genuine compliment has the power to make a friend's day!
This story is delightful and easy for kids to read.  It rhymes which is always a favorite of my kids.  The illustrations are cool the way they mixed photography and drawings together to make the pictures really pop.  I love the story and how Kenny tries to show everyone else the bright side of being who they are, but yet he still felt slighted.   Such a good story for kids who think everyone else has it better than them.
You can purchase the book online for $9.99 at KennyTheKernel.com.

(1) Koupon Karen reader will win a copy of Half Popped Children's Book.

To enter the giveaway, use the Giveaway Tools widget below. Email and feed subscribers will need to click-through to the site to enter the giveaway.
As a reminder, comments left on Facebook or Twitter will not be included. You must follow the instructions on the widget about the proper way to enter. Of course Facebook is in no way associated with this giveaway!
Disclosure: I received a Free product for review. My opinions are 100% mine.