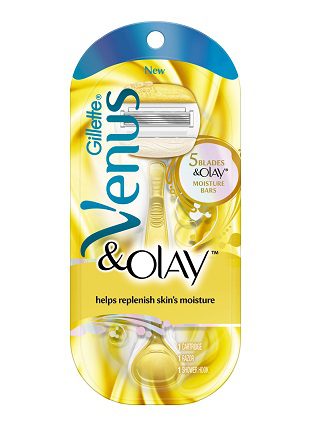 Product Name: Venus & Olay Razor
Product Information: For the first time ever, Gillette Venus, a global leader in female shaving, and Olay, a global leader in skincare, are coming together to deliver a gold standard in shaving with the new Gillette Venus & Olay razor. Olay Moisture Bars help lock-in moisture to your skin for less dryness,2 and with every smoothing stroke, Venus' five blades shave you close.
According to Venus research, 60 percent of women claim skin concerns when it comes to shaving, including dryness, irritation, nicks and cuts3. Additionally, 82 percent of women state they are somewhat to extremely bothered by dry skin4. What they desire is ultra-smooth, beautiful skin…and the feelings of confidence and femininity that comes with it. We call this Goddess Skin and the new Venus & Olay razor is an outstanding way to achieve it.
Venus' best shaving technology works with Olay Moisture Bars, offering women best-of-both- worlds shaving and skin expertise.
Venus' five-bladed razors shave you close and adjust to women's curves for a smooth and comfortable shave, even over tricky shaving areas like knees and ankles. Olay Moisture Bars contain skin-enhancing elements found in Olay products: Petrolatum helps lock in skin's moisture for less dryness5 and Glycerin helps offer that goddess glow! Just wet the razor to release a light lather – no separate shave cream required. As with most Venus razors, new Venus & Olay also features a rounded, pivoting head designed for women's curves, and a soft-grip ergonomic handle for confident control, even in wet and soapy environments.
Inspired by Venus & Olay, Satin Care has introduced Gillette Satin Care with a touch of Olay, a perfect partner for your Venus razor for beautiful, satiny smooth skin.
Satin Care with a touch of Olay, contains Shea Butter and is specially designed for dry skin. Its moisturizing formula helps protect the skin against moisture loss during the shave.
Purchase Information: Venus & Olay is available as of March 15, 2012 at food, drug, convenience and mass merchandise stores throughout the United States. A refillable Venus & Olay with one replacement cartridge is approximately $8.99-$10.99. Packages of three replacement cartridges are about $14.99 – $19.49. Satin Care with a touch of Olay is approximately $2.15-$3.39.
My Thoughts: I was already a fan of Venus razors and each time they come out with a new one, I'm in love. Well there is no exception with this razor because I love it even more than the others. I am a fan of Olay – it's one of my favorite skin care products so put it together with one of my favorite razors and it's a win for me.
The first time I used it my legs were incredibly soft for a couple of days which I loved. This time of the year my skin is still a bit dry but after using this razor, my legs weren't as dry so it's something I will definitely continue to use.
I also love the shape of the handle on the razor and the gold color!  It's the little things that make a difference to me some time.  As usual, I am not disappointed in Venus or Olay.
Disclosure: I received a FREE product for my review. My opinions are 100% mine.