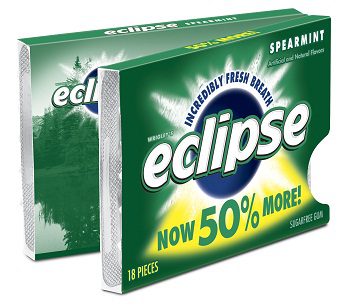 Product Name: Wrigley's Double Packs Gum
Product Information:  In January 2012, Wrigley's introduced the new 18-count Eclipse®, Orbit White® and Juicy Fruit® pellet split packs.  The new packs offer consumers their favorite quality gum for a better value and in an innovative, new packaging design that fits on-the-go lifestyles.   You can easily split the pack in two, so you can throw one in your purse and keep the other at home, in your car or share with a friend.
With the two packs of gum there is never an occasion to run out. The new packaging connects two 9-count packs at the center, giving consumers the choice to keep intact or to separate the packs and have gum in more places.
Wrigley's research shows that many adults prefer to chew pellet gum because they enjoy the form and the whitening or strong breath-freshening benefits common to Eclipse® and Orbit White®.  These same chewers want more pellets and at a better value; in fact, 52 percent of these gum chewers tell us they run out of their favorite gum at least once per day
The new 18-count pellet split packs hit some stores in January 2012 but will be in most stores by March 2012.
Product Price: Suggested retail price for an 18-count pack is $1.29, just $0.10 more than the suggested retail price of the 12-count pack, but with 50 percent more gum.
My Thoughts:  I love gum and I love getting the most for my money so I am super excited about the new 18 piece 'double' pack of gum since it's only $.10 more!!  I can keep one in the house and one in my purse or the car.  Or if I'm feeling generous I can give one to my husband and keep one for myself!   More gum for my money.   We received some gum for our review and one of the flavors included Polar Ice. I wasn't sure if I was going to like the Polar Ice because I don't like like mints that have that cooling effect to them, but I was pleasantly surprised that it wasn't very strong, so I like it!
Have you tried it?  Want to???

(1) Koupon Karen reader will win A Years supply of Wrigley's gum which includes 24 packs which is really 48 packs with the new packaging – one a week for a year!!!!
To enter the giveaway, use the rafflecopter widget below. You can now sign in with Facebook and it will remember you each time you enter another rafflecopter giveaway. Of course Facebook is in no way associated with this giveaway, the people of rafflecopter just want to make it easier for you to enter giveaways now. If you aren't sure how to use the Rafflecopter Widget, check out my friend Nicole's post about using the widget to enter giveaway's. She did an awesome job of explaining it!
As a reminder, comments left on Facebook or Twitter will not be included.
Disclosure: I received the same prize as the winner for review. My opinions are 100% mine.