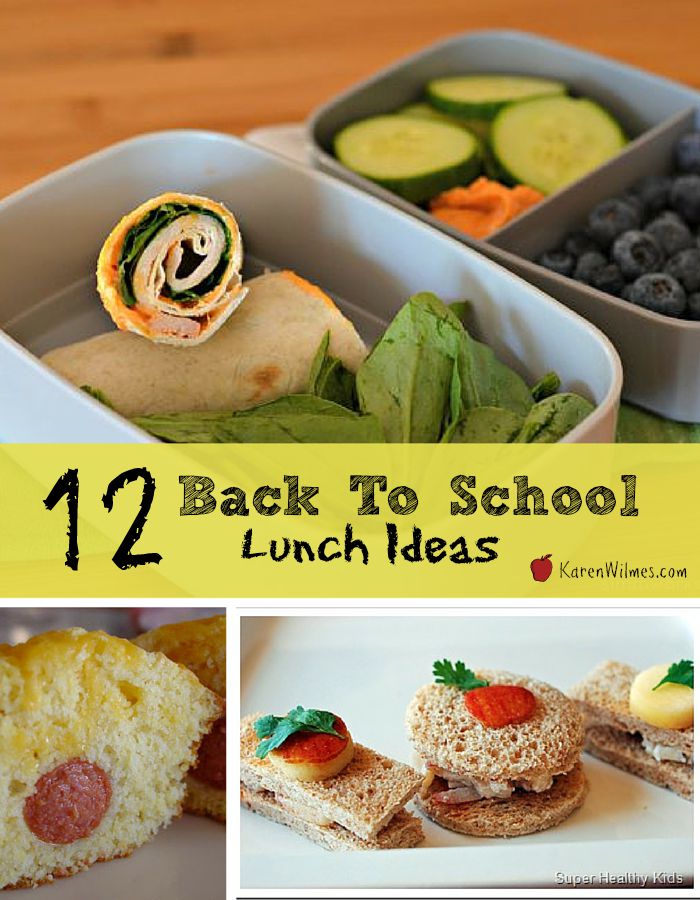 It's time to get ready to go back to school which means it's time to make lunches every day.  I like to come up with some creative school lunch ideas to make it fun for the kids.    By the end of the school year, but now it's a new school year so here are 12 of my favorite school lunch ideas.
12 Back to School Lunch Ideas
Turkey Wraps | The Simmsworks Family – Instead of going with a typical sandwich, send your kid to school with a healthy tortilla wrap!
Baked Corn Dog Muffins | Lick the Bowl Good – This post says it's meant for the Super Bowl but these little hot dog treats would be perfect for a cute lunch!
Peanut Butter Oatmeal Balls | Mommy's Kitchen – Instead of a peanut butter sandwich, send them to school with healthy peanut butter balls!
Apple Pie Sandwiches | Super Healthy Kids – If you want to allow your kids to have something sweeter for lunch, try this twist on the traditional sandwich!
Pizza Muffins | All My Great Ideas are Really from Pinterest – It might be hard to send your kids to school with pizza but not with these pizza muffins!
Mini Personal Pot Pies | Betty Crocker – These are cute and healthy mini little pies that are easy to make and can be made with whatever ingredients your kids favor!
Individual Seven-Layer Dips | The Girl Who Ate Everything – Send your kids with a bit of Mexican food for their lunch!
Baked Ham and Cheese Rolls | Big Bear's Wife – Instead of sending the typical ham and cheese sandwich, switch it up and send these unique rolls!
Kid-Friendly Pasta Salad | Cook the Story – Send your kids with something extremely healthy and different with this pasta salad recipe!
PB&J on a Stick | Welchs – These are cute and could be made to where they were safer to take to school!
Kid Sushi | This Full House – These are a cute twist the typical sandwich. Can be made out of any sandwich ingredients desired!
DIY Pizza Lunchables | Mommy's Kitchen – You could make any lunchable you like but this link is for the pizza lunchable! Cute idea!
Which School Lunch Idea will you try first?