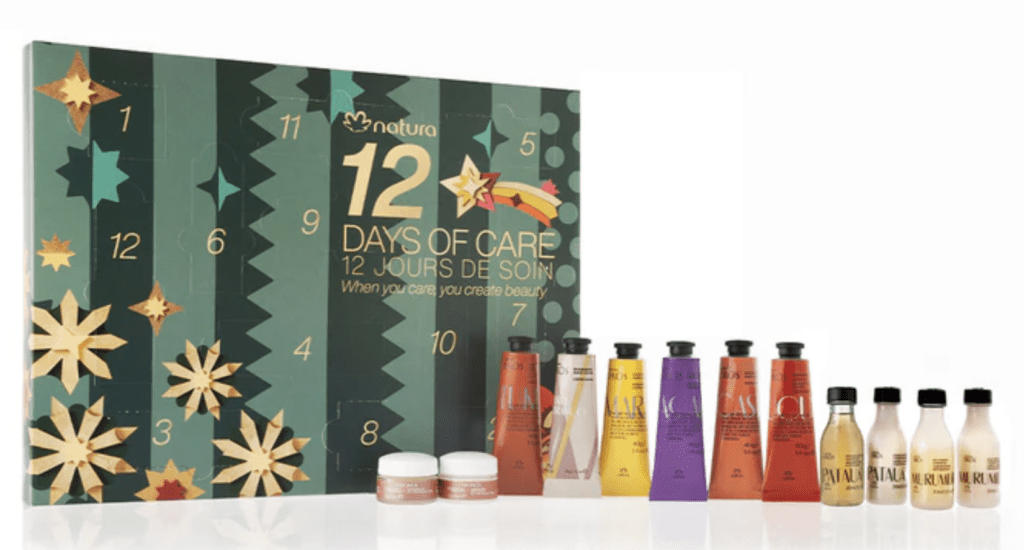 Natura Holiday 12 Days of Care Sale! Since the holidays are over, Natura has marked down their 12 Days of Care and right now it's only $54.60. This is a great way to try their products. If you divide the cost by the number of products then you are paying just $4.50 per product. The hand creams included in this are half the size of the full size product, which sells for $18.  But it's only $4.50 in this set so that's a GREAT deal on these items and the perfect way to try them. Plus Natura gives you a couple of free products with every purchase so you will get to try something else too!
Here are the items included in this set:
Castanha Nourishing Hand Cream 40g: A skin-loving cream blended with nourishing castanha oil and Murumuru butter to treat and soften hands.
Açaí Hand Cream 40g: A skin-loving vegan cream blended with energizing açaí oil and murumuru butter to treat and soften hands.
Maracujá Hand Cream 40g: A lightweight treatment enriched with refreshing Maracujá oil for smooth and renewed skin.
Breu Branco Hand Cream 40g: A skin-loving cream blended with the hydrating power of plant oils and powerful aromatic fragrance of Amazonian Breu Branco to treat and soften hands.
Tukumã Hand Cream 40g: A lightweight treatment enriched with replenishing Tucumã crude butter.
Ucuuba Hand Cream 40g: Enriched with a blend of repairing Ucuuba and Murumuru butters, this extremely effective hand cream softens and smooths skin for up to 30 hours.
Patauá Shampoo 30ml: A rich repairing shampoo to strengthen, protect and treat dry, damaged, unruly hair. Renews hairs breakage and split ends to promote strong, shiny, beautiful hair with every wash.
Patauá Conditioner 30ml: A rich repairing conditioner packed with a blend of Patauá oil, avocado, and jojoba oils. Deeply treats and protects dry, damaged, and unruly hair.
Murumuru Restoring Shampoo 30ml: A curl-loving shampoo enriched with Brazilian murumuru butter and protein rich jojoba. Ideal for wavy, curly, or frizzy hair.
Murumuru Restoring Conditioner 30ml: A moisture-rich conditioner enriched with Brazilian Murumuru butter. It pampers, protects, and softens the hair strands, treating different types of damage.
Energizing Face Cream 30+ 15g: Brazilian Jambu Extract combined with plant-derived polyphenols relax skin micro-tensions, protect against free radicals, and minimize fine lines and wrinkles. Enriched with nourishing Cupuaçu Butter, for immediate and long-term hydration
Firming and Radiance Face Cream 45+ 15g: This anti-signs face cream charged with Brazilian Jatobá Extract and amino acids, deeply moisturizes and firms skin, visibly reduces wrinkles and restores skin's radiance.
Natura has marked down their 12 Days of Care
The hand cream and liquid soap are two of my favorite products from Natura.  Natura has marked down their 12 Days of Care