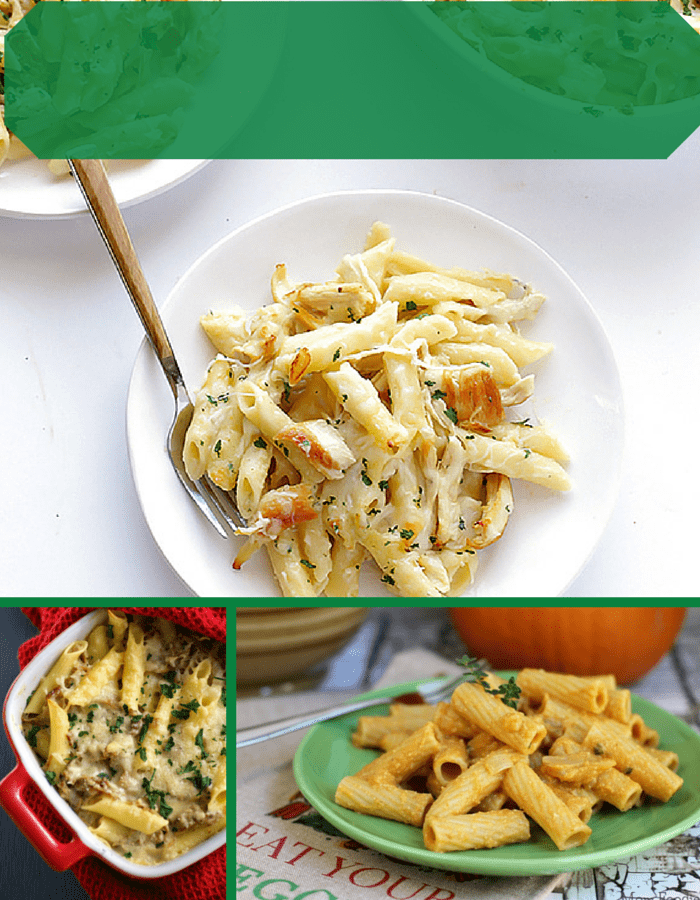 13 Back to School Pasta Dishes
We are Italian therefore pasta is one of our food groups!  I love pasta no matter how you cook it or what you put on it.  Pasta can be a budget friendly item on your menu and also can turn into some quick dinners.  Below are a list of my favorite quick pasta dishes that will be super helpful for back to school nights.
Sausage Pepper Fettuccini Skillet | Let the Baking Begin – This slightly spicy meal in a skillet is super healthy and packs good flavor all while being super quick to make!
Creamy Spinach Tomato Tortellini | Cooking Classy – This quick pasta dish is extremely good and so creamy. If you want to go meatless, this dish is perfect for you or you can add your own meat!
One Pot Pasta | The Sits Girls – If you don't want to add a ton of dishes to your list of things to get done, try this one pot wonder!
Chicken Alfredo Baked Ziti | Gimme Some Oven – I don't know about you, but when it comes to pasta, ziti and chicken with just about any sauce is my favorite. This is a delicious and quick meal for any pasta lover!
Creamy Broccoli Chicken Shells and Cheese | Cooking Classy – If you thought your kids loved shells and cheese bought from the store, make them this homemade healthier version and I bet they will love it even more!
Philadelphia Quick Pasta Carbonara | Kraft – This pasta dish is addicting.  It's easy to make and has such good flavor that you may have to make a double batch for dinner!
One-Pot Caprese Pasta | Diethood – Here's another quick dinner that won't leave you with a big mess to cleanup afterwards! Not to mention how healthy it is!
Cheeseburger Casserole | Gimme Delicious Food – Kids love cheeseburgers and usually junk food in general and who wouldn't? Try this pasta casserole and see if they're willing to give up that fast food!
Vegan Creamy Pumpkin Pasta | Mom Foodie – If you're looking for something environmentally friendly or a little more sophisticated while trying to still take as little time as possible, check out this creamy pumpkin recipe!
Cheesy Tuna Pasta Bake | Southern In Law – This recipes is gluten-free and fat-free! Make a healthier yet quick meal! If you have any tuna lovers or fish lovers, they will definitely love this bake!
Cheesesteak Pasta | From Val's Kitchen – My husband loves cheesesteak and we're always needing quick dinners. This dish is perfect and very satisfying.
30-Minute Skillet Lasagna | Five Heart Home – Talk about extremely tasty! This dish is quick and doesn't lack in bring something to the table that everyone can enjoy.
Spaghetti Carbonara | Gimme Some Oven – This light yet filling meal is covered in bacon which we all know makes it perfect.
Will you try all these Pasta Dishes??