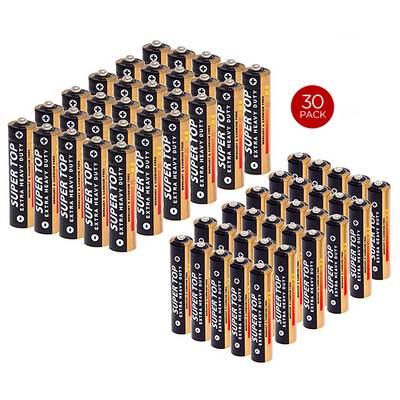 30 AA or AAA Batteries for only $2.70 + Shipping
Today you an get a 30-Pack of Super Top Extra Heavy Duty Long Life Batteries for only $2.99 + Shipping!  Plus use coupon code TENOFF and save an additional 10% off for a total of $2.70 each + shipping!  This is a HUGE savings and if you go through batteries the way we do around here, you'll want to grab them.  You can choose between AA or AAA.   I'm actually going to grab one of each because we use both sizes pretty often.

These Super Top batteries (30-pack) are the trusted choice for emergency equipment and consumer electronics. Super Top's alkaline batteries feature secure seals that prevent leakage and corrosion. Because these batteries are securely sealed and date coded, they tend to have a longer shelf life than most other brands of battery.
Super Top has long produced reliable and lasting zinc carbon batteries. When you need high-performance batteries for flashlights, cameras, remote controls or emergency equipment, this 30-pack of Super Top heavy duty batteries is a safe choice. The batteries are good through June 2017.