This post is Sponsored by Moose Toys but my opinions are 100% my own!
Christmas is coming quickly and if you are still looking for some toy ideas for the kids on your list, here are 4 Top Moose Toys that are must haves this holiday season that boys and girls will love!  Moose Toys is one of our favorite companies right now because they make Shopkins.   My girls LOVE Shopkins and they are on the top of their Christmas lists this year.  Actually they are really hoping that Santa can get his hands on some Season 4 Shopkins that are coming out this month.  I told them not to count on it.
But Moose Toys makes more than just Shopkins and the kids love them all!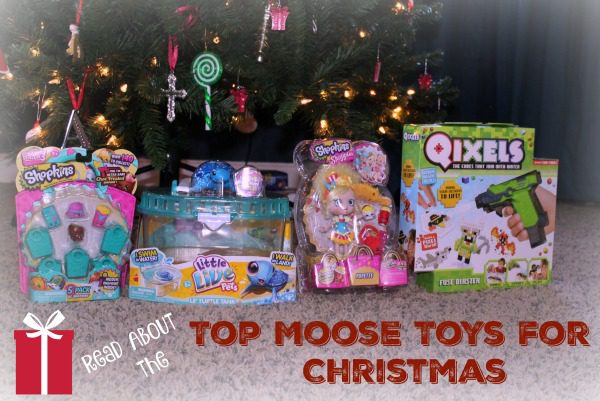 4 Top Moose Toys for Kids aged 5 and older
Have you see Little Live Pets?  Little Live Pets look and feel like the real thing.  They move, feel and act so real. With funny birds, beautiful butterflies and more in the range, there's bound to be a pet that's perfect for you!  Instead of having the mess and expense of a real pet, your kids can care for them – just like a real pet!  Perfect for kids ages 5 and over.
How about Qixels? Qixels are cubes that join with water.    You can build your design one Qixel cube at a time, then blast with water using the Fuse Blaster Water Gun and watch your creation come to life! Create your own pixel world of monsters, warriors, ninjas, skeletons and more, then add weapons to characters to create an epic battle scene. Templates are provided so you can create characters from the six different Theme Packs or you can create an entire unique world of your own choosing! With Qixels the possibilities are endless – the only limit is your imagination!
In case you don't already know, Shopkins are the super cute, small characters that live in a BIG shopping world!  And for that Shopkins lover they also have Shopkins Shoppies!!!  Shoppies are dolls are fun to play with and they come with 2 exclusive Shopkins so they are a must have for the serious collector!  They are on the top of my 8 year old's Christmas list and she's going to be so excited to get one!!
All of the toys I have listed above are made by Moose Toys and are perfect for any child ages 5 and older.  My 11 year old loves them just as much as my 8 year old!
You can find them in stores now where toys are sold.
Disclosure: I received a Free product for review. My opinions are 100% mine.