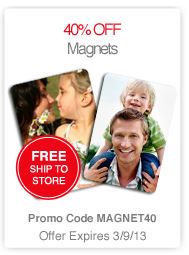 40% off Photo Magnets + FREE Ship To Store at CVSPhoto.com
This week online at CVS you can save 40% off any Photo Magnet at CVSphoto.com.
. Just click THIS LINK and enter code CVSMAGNET to receive the discount.
Photo magnets make great gifts for grandparents but these magnets aren't just for photos!  They are great for your children's artwork so if you have a favorite piece you want to display but don't have the room for it, you can snap a picture of it or scan it in, and put it on a magnet!  Also, if you have a business logo or design that you want to put on a magnet, just upload that image and add it to the magnet!  It's a great way to advertise your business.
So many options!  Click HERE To make one.
Sale ends 3/9/13.