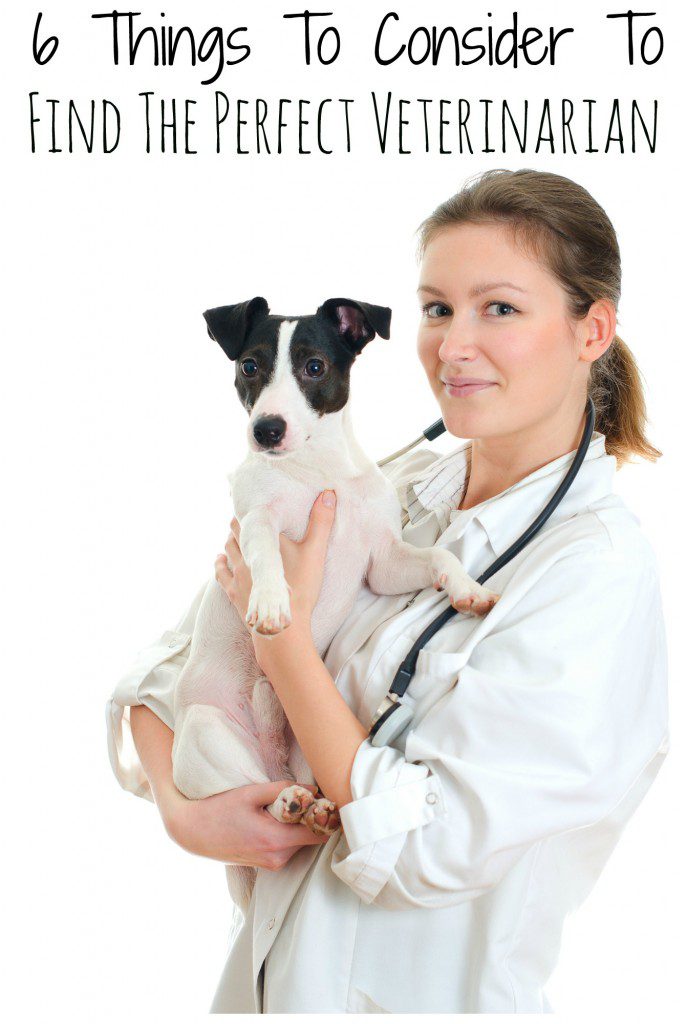 As I shared with you a couple a months ago, we have a new addition to our family – Max!  Max is a 4 month old Boston Terrier and the first puppy I've ever had.  And boy have I learned a lot!  And there is still so much more for me to learn.  I've done so many google searches on dogs, that I figured it would be a good subject to share here on the blog.  So you'll be seeing more Dog Blog posts in June and I hope you find them helpful!
One thing about being a responsible pet owner is taking your pet for regular check ups and immunizations. And sometimes our pets get sick. A good veterinarian can make a huge difference not only in the life of your pet, but also yours! Pets are part of your family and you want them to have the best care possible. Here are 6 things to consider to help you find the perfect veterinarian for your fur baby!
AAHA (American Animal Hospital Association) accredited
While talking to your veterinarian you will want to know where they went to school, but also be sure to ask if they are AAHA accredited. This membership means that the clinic or hospital maintains a high standard of care. While many excellent clinics are not members, finding a distinguished clinic with this accreditation can be nice.
Ask To See The Hospital
If you find a hospital or clinic that you think you are interested (AAHA accredited or not!) ask to tour the hospital. A good staff will be proud to show you around. Obviously, they will not be able to show you in a room if a medical appointment or procedure is being performed, but they should be very willing to show you other areas of the clinic and answer any questions you may have.
Ask about their Medical Equipment, Services and Practices
In case of an emergency you want to know that the hospital will be able to take care of your pet. Does the clinic/hospital that you are looking have access to things such as x-ray machines, ultrasound machine and IV pumps? Are they able to look at things like dentistry, in-house lab tests, and vision? If surgery is needed, can it be done there or would you need to travel? Does the veterinarian believe in pain medication for the pet? Knowing if the office can service your needs and hopefully you won't have an emergency, but if you do, knowing how long it would take you to travel to a clinic that can help is very important.
Communication and Willingness to Answer Questions
When you take your pet in for check-ups you want a doctor and staff that will spend some time with you and your pet. One that will inform you of what is going well, what you can do differently; someone who performs a thorough examination. You don't want someone who rushes in, glances over and runs out. You want someone who you can communicate well with and who answers any and all of your questions!
If your pet has to have surgery or is hospitalized it can be really hard to leave them. You want a staff that will help you and your pet be comfortable with the separation, will answer questions and who will timely get back to your calls with any follow up questions or concerns.
Communication with the Animals
Watching how the staff communicates with the animals is just as important as how the staff communicates with the humans! Do the animals seem receptive to them? Is the staff talking to them in a calm and friendly manner? DO they talk to them? You wouldn't want your children to be left in the care of someone who didn't seem to like children. You don't want to leave your pets with someone who seems miserable around animals!
Hours of Operation
You need an office that will work with you and your schedule. You also need to make sure that in the event of an after hours emergency there is a plan.
A good doctor and staff are worth their weight in gold! It's so important to find a place that you and your pets are comfortable with and you know can take care of anything from a check up to an emergency surgery. Your pets are family and finding a doctor who understands that can make all of the difference!