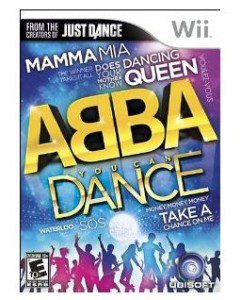 Product Name: ABBA You Can Dance for the Wii
Product Information:  ABBA created music that spanned generations and has inspired millions to sing and dance. ABBA You Can Dance features 26 ABBA songs, including all of the group's biggest hits, such as "Dancing Queen," "Mamma Mia," "Take a Chance on Me" and "Waterloo." The game's professionally choreographed routines and unique environments were inspired by the group's music videos and live performances. With ABBA You Can Dance, Ubisoft is making it possible for more people to join in on the fun of a dancing game. Up to four players can dance while two additional players can sing along to the lyrics on screen. A mini-musical mode lets players act out the key roles in a love story based on some of the group's classic songs. ABBA You Can Dance also includes original video clips and displays anecdotes about the group that even die-hard fans will find entertaining and informative.

Product Price: $39.99
Purchase Information: You can purchase it where Wii games are sold and online at Amazon
.
My Thoughts:  One of my favorite songs is Dancing Queen by Abba and I love when I'm out dancing (well when I used to go out dancing) and it comes on.  I go into my own world dancing to it!  I do the same thing when it comes on the radio – crank it up and belt out the song.  My kids think I'm weird when I do things like that – then they ask to listen to it again!
I had so much fun with the ABBA You Can Dance Wii game and so did my husband – laughing at me trying to do the dance.  But I didn't care.  I just enjoyed the music and had fun.  It's a great workout to some really fun, upbeat music!

WIN IT
(1) Koupon Karen reader will Abba You Can Dance for the Wii

To enter the giveaway, use the rafflecopter widget below. You can now sign in with Facebook and it will remember you each time you enter another rafflecopter giveaway. Of course Facebook is in no way associated with this giveaway, the people of rafflecopter just want to make it easier for you to enter giveaways now. If you aren't sure how to use the Rafflecopter Widget, check out my friend Nicole's post about using the widget to enter giveaway's. She did an awesome job of explaining it!
As a reminder, comments left on Facebook or Twitter will not be included.
Disclosure: I received the same prize as the winner for review. My opinions are 100% mine.