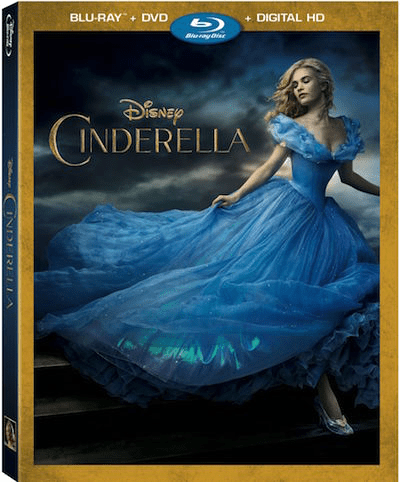 I have been a huge Cinderella fan since I was a kid.  If there's a Cinderella movie on, then I am there!  So needless to say when Disney released Cinderella earlier this year, we were there opening weekend!  And now I'm excited that we'll be able to own a copy of it soon in our Disney home library!
Plus it includes the short Frozen Fever – which my girls LOVED!!!
Add Cinderella to your Home Movie Library in September
Disney's beloved and empowering fairytale told in a new beautiful way, Cinderella, arrives on Blu-ray Combo Pack, Digital HD and Disney Movies Anywhere September 15th! The bonus features includes over 12 minutes of additional scenes, the " Frozen Fever" theatrical short and more!
Alternate Opening – Ella's Childhood from Disney's Cinderella: 
About Cinderella
Celebrate Disney's "Cinderella," a modern classic that shines with beauty, imagination…and magic! Despite being mistreated by her stepmother (Cate Blanchett) and stepsisters, a spirited Ella (Lily James) resolves to take charge of her fate. Add a royal ball, a Fairy Godmother (Helena Bonham-Carter) and a glass slipper, and suddenly – magic becomes reality!